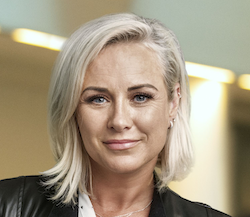 Leading edge audio and video together will make the critical difference in today's hybrid working environment, according to EPOS Sales Director Jane Craven who puts the company's new video credentials on the record.
You only have to look at the strategic developments and product innovations coming out of EPOS to gain a full understanding of today's workplace transformation, founded on devices designed to help businesses better communicate and collaborate. "The key step change for us has been the move to video solutions," stated Craven. "There's demand for video products but the challenge is that we're primarily known for audio. This makes total sense as we have a rich history and strong track record in audio, but we need to change perceptions of the brand and prove that our design philosophy can produce video products at the same level as we have always done for audio. It's a burgeoning market that we're keen to leave our mark on."
EPOS's first foray into video was the launch of Expand Vision 3T last year, an all-in-one video conferencing solution designed for connecting people working remotely and those in an office setting. "The pandemic catalysed a huge rise in partners looking for audio and video solutions," added Craven. "More and more businesses have come to us looking for consultations on how they can create a seamless hybrid experience. In fact, in the first year of the pandemic we saw growth of 75 per cent. Although a big part of this has been our expansion into video solutions, we're also constantly looking at how we can improve our current range of devices and expand them."
We want to bring the same level of precision to video as we have in audio
The pandemic and lockdowns underlined how important clear audio and video communications are to collaborate with colleagues in a remote working environment, observed Craven. "Prior to the pandemic, simply walking over to a colleague's desk seemed so trivial," she added. "I don't think anyone realised just how much value being able to speak to customers or colleagues in person added to work. Now, with many of us either hybrid working or fully remote we have to find ways of matching that in-office experience, or come as close as possible.
"But many businesses aren't giving a thought to which devices and tools their employees are using, creating a fractured working experience. Devices may not be properly optimised or the quality may not match expectations. So, strategically, we're communicating this reality to our customers and prospects, both directly and through our channel partners."
The integration of AI into communications devices is a significant development. It offers an opportunity to create devices that can adapt to any situation while meeting personal preferences. EPOS has taken a proactive approach utilising AI. In 2020 it introduced EPOS AI which uses machine learning and AI to help separate human voices from other sounds. "Using deep learning tools in the EPOS sound laboratory our engineers have enabled EPOS AI to effectively learn," commented Craven. "Our flagship headset, the ADAPT 660, was our first UC-certified headset to incorporate machine learning to enhance voice pick-up. Coupled with its adaptive active noise cancellation it offers greater clarity for users."
These developments reflect key considerations for business leaders, brought about by the impact of Covid-19 lockdowns, observed Craven, who posed a critical question: How can leaders create a consistent experience for staff, partners and clients? "Covid has shown us that audio is simply not enough," she added. "Video communications have come to the forefront whether you're communicating with a client, or maybe a doctor using telehealth solutions. Having video is vital to providing that extra level of service. In part, this is why EPOS has moved into the video space with products like the Expand Vision video conferencing solution and Expand Vision Control. We want to bring the same level of precision to video solutions as we have audio ones."
Alongside this, EPOS has invested in new technologies that make hybrid working easier for individuals. The company has leveraged psychoacoustic research from its sibling companies in the Demant Group to build the foundation of EPOS BrainAdapt which bridges the gap between what is heard and how the brain listens. "With hybrid working we're constantly moving between natural and artificial sounds and our brains can struggle to keep up," explained Craven. "Ultimately, this can result in cognitive overload, meaning the brain has to work extra hard to process the information coming it.
"Knowing this information and using our research we've designed audio solutions with algorithms and acoustics that make it easier for the brain to process sounds from colleagues working remotely. Having been cooped up during the pandemic, the EPOS team are more excited than ever to get out and showcase the tech we've been developing. They've been using it for the past couple of years, now they want to show the world."