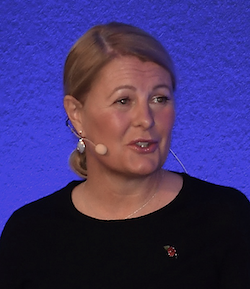 BT Wholesale Managing Director Alex Tempest is on a mission to increase female representation in the comms sector and springboard more women into senior positions. Here, she responds to key questions that widen the conversation.
What are the benefits to businesses of a strong female presence in boardrooms?
It's important that women are involved in the decision making process, both in and out of boardrooms. There is a plethora of benefits, ranging from providing new perspectives to networking opportunities and acting as a role model to other employees. For too long women have been sidelined in the channel. It's time they are heard, and I'm proud to be leading from the front at BT Wholesale.
How are you taking a lead on the issue of increasing female representation at the top in your business?
As Managing Director of BT Wholesale, I have continued my career-long dedication to achieving gender equality by shaping several career development initiatives within the business. To increase female representation at the top, it's important that we start from the bottom up. At the entry-level, BT has an apprenticeship scheme which onboarded 10 new apprentices in the last year alone. Eighty per cent of apprentices that qualified over five years ago are still with us today. By encouraging confidence in women from the start of their careers we can nurture the best talent as they rise through the ranks.
I have also evolved my approach to mentorship to look beyond gender alone, working to create an environment where everyone feels supported and can envision a career path for themselves in the channel – no matter their gender, race, sexuality, socio-economic status or otherwise. Far from being blind to their differences, this has meant mentoring each employee according to individual personality, value add and assessing the challenges people may face case-by-case.
Mentorship is not about making people follow all the rules, but empowering them to make up their own minds and contribute their own ideas. Ultimately, I want to empower my team to take risks, to be confident in their skill set and take the leap, whatever that might mean for them. This will naturally lead to more female representation at the top. Every employee needs to feel supported so women can thrive.
What initiatives and developments do you participate in to help increase the presence of women on boards in the wider industry?
I am committed to encouraging more women to have senior management positions in the channel by improving mentorship opportunities, having helped to launch the TechWomen programme. The goals of the programme are to assist those in key commercial, operational and technical roles to develop their careers, with 95 per cent of participants saying they felt confident driving their career following the course.
What more action needs to be taken to boost the number of women on boards?
There are a multitude of ways that we can boost the number of women on boards. Firstly, businesses can implement better recruitment policies. Statistics say that 39 per cent of businesses in the industry do not have a policy to recruit diverse candidates.
From anonymous applications to reducing the list of mandatory requirements on applications, there are many processes that can be put in place to encourage more women to apply for senior roles. What's more, businesses can ensure longer-term equality in recruitment by building a diverse workplace and removing bias through better training opportunities.
For companies struggling to get women into senior roles, the best thing they can do is ask questions – and it's crucial that a bottom-up understanding is encouraged. This might be in the form of one-on-one conversations, collecting information anonymously, or reverse mentoring. Only by prioritising knowledge sharing can businesses understand the challenges facing women employees and encourage them to reach the top.
What barriers have you identified to having more women on boards and how is BT Wholesale addressing these challenges?
One of the main challenges to having more women on boards is the restrictive view that just this will result in sustained gender equality. For example, one of the main barriers to having more women on boards is the unequal balance of care-giving responsibilities. It's essential that companies implement policies that equalise parental leave to allow women and men to have equal opportunities, as women are often disproportionately impacted.
BT Wholesale recognises that there's still a long way to go, but we're heading in the right direction. To ensure that we're always listening to our employees' needs we have implemented a Gender Equality Network which aims to challenge the business and inspire change in policy, process and the cultural norms that create gender equality.
How best can ambitious women influence their own ability to reach a board level position?
With tech spearheading innovation in almost every area of our lives, women need to be at the forefront so they have a say over the direction of progress. Growing up with a twin brother helped highlight that women have been left out of the design of our collective world for too long. To influence their own ability to reach a board level position, women should get to know the sector they are in, network with a range of stakeholders and be authentic to themselves.
In your experience, has the comms sector in general made progress in recent years on increasing diversity at leadership level?
Every year we're seeing more and more women step into leadership roles in the industry and it's much more inclusive than it used to be. However, there is still a long way to go. I've been lucky enough to reach a leadership position, but I recognise this is an anomaly.
Our industry still feels male dominated so we can't take our foot off the pedal. I have made it my personal goal to get more women into the male dominated tech industry, and those already there into more senior positions.
Businesses that don't act on improving the diversity of their senior leadership committee will find that it's to their own detriment, fostering an echo chamber that won't breed the innovation the industry needs.