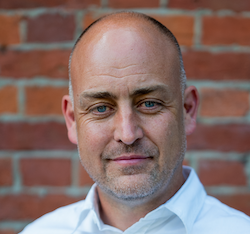 In this strategy update ITS CEO Daren Baythorpe displays a clear intention to turn full fibre industry transformation into a catalyst for positive change among channel partners.
Backed by Aviva Investors, rapid growth has become a defining factor for ITS in recent years. The company – which is primarily a network builder of wholesale access full fibre networks – has substantially increased its network reach, is profitable and has more than trebled revenues year-on-year. "We balance high growth with profitability," stated Baythorpe. "Creating a sustainable business gives partners the confidence to grow with us."
Baythorpe fully expects its impressive growth trajectory to continue while deepening and broadening relationships with the partner base, and commercialising the network infrastructure through the addition of new products and services. Portal and API development are also priorities, along with ensuring the right people are on board. "Over the last 12 months we have more than doubled our headcount," added Baythorpe. "We focused our recruitment around technical capabilities, the product portfolio, bid support, customer service and field delivery."
Having secured the capabilities he needs and put in place positive changes across the business Baythorpe is confident that ITS is in a stronger position to support the growth of its Faster Britain brand launched in 2020. "There are three main components to this programme – getting fibre in the right places across the UK, warming the market to full fibre XGS PON-based services to replace ageing Openreach-based leased line EAD infrastructure, and giving partners the tools to win in the market," explained Baythorpe. "We also provide a range of off-net solutions anywhere in the UK via our infrastructure partners."
The telecoms industry is undergoing a once in a lifetime change as the UK transitions from copper-based FTTC broadband to full fibre
Last year ITS opened a new headquarters and NOC along with an office in London. These investments help to bring teams together, including partners. "The collaborative spaces have already paid dividends and are a reflection of how hybrid working is so beneficial to productivity," added Baythorpe.
M&A is another important aspect of ITS's strategy, underlined by last year's acquisition of NextGenAccess which brought additional dark fibre expertise into the business, as well as increasing ITS's own fibre footprint which is reflective of a major transformation in the sector. "The telecoms industry is undergoing a once in a lifetime change as the UK transitions from copper-based FTTC broadband to full fibre," stated Baythorpe. "Our own roll out is helping to drive this by delivering access to business communities across the UK. Many of our partners are beating the drum for fibre using our Faster Britain brand and the collateral we have put at their disposal."
Baythorpe has witnessed growing demand for higher bandwidth 10Gbps services and greater acceptability that FTTP broadband can deliver reliable business class services that replace copper and low end 10 and 100Mbps leased lines. "However, the overall demand for leased lines is growing as businesses adopt the Internet and cloud-based solutions and sunset old expensive technology such as MPLS," he said.
Baythorpe's broader plan is to enter locations with high business density and low current fibre access. Basically, areas with pent-up demand, and the strategy is accelerating. "This year we will roll out more full fibre than any other single year to date having substantially scaled up our delivery capabilities," he commented. "This is the result of us entering new towns and cities while building out and densifying our current network footprint."
These successes are a manifestation of Baythorpe's belief in delivering clear leadership and focus, enabling greater partner-led sophistication and adaptability to be built into the business. "We will remain agile to what the market needs and continue to listen to partners," he stated. "Feedback is a gift that we can always learn from. This is a key reason why we have invested in building a significant sales team that offers close and engaged partner liaison."
In dealing with today's major challenges such as high inflation and the economic impacts of war in Ukraine, Baythorpe has taken strategic measures to mitigate the consequences on ITS and its partners. "Across the board we are all experiencing increased costs," he commented. "The telecoms industry is impacted by the fact that kit is priced in dollars and no one is immune to fluctuations in the exchange rate. There are also supply issues.
"To mitigate this risk we have worked hard to build long-term agreements with our suppliers which has been helped by our financial stability and the line of sight we have on our business. We will always think carefully about any price changes and have not applied any increases to our on-net connections. The key priorities must be to ensure we are delivering on our promises, the consistent quality of delivery, service and communication. This is our ongoing focus."