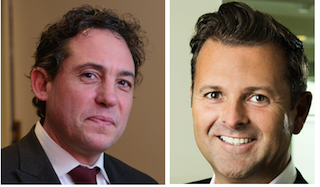 TV and radio business journalist and presenter Simon Jack (pictured far left) has been confirmed as the facilitator for next February's ICT Investment Forum.
Also confirmed is headline interviewee Daisy founder and CEO Matt Riley (pictured right) who will share insights into the qualities and strategies that have come to define him as the undisputed comms sector tour de force.
"Daisy's strategy was to create a scaled reseller by consolidating the market," commented Riley. "This is what we will continue to do. When we do a merger or acquisition we use a simple formula – we price based on growth, cash generation and recurring revenues. 
"We also like businesses that keep it simple. If an investor can't understand it the chances are a customer won't either.
"There are four or five larger £1bn-plus players who serve consumers and large enterprises pretty well, but they don't seem to get it right for the circa five million SMBs.
"That's where the reseller community operates and there is still plenty of room in the market for more than one Daisy."
The ICT Investment Forum is organised by Comms Dealer and takes place on February 28th 2019 at BAFTA, 195 Piccadilly, London. Knight CF has taken lead sponsorship. 
"The Forum will enable delegates to make critical evaluations of their own business and think more strategically about their future planning," stated Comms Dealer MD Mike O'Brien.
Maximise the value of your business
Digital transformation is impacting all areas of the comms market, disrupting traditional business models and prompting a wave of M&A deals and investments in high growth channel businesses. Against this backdrop, it is essential that potential buyers, sellers and investment-seekers understand their options and how to advance through the process. 
Insight sessions include:
• Navigating the comms sector growth landscape
• How to identify the optimal financing solution
• Investing in the future: You have the funds, what next?
• M&A strategies: First steps and how to get it right
• High calibre interviews with business growth experts
This event is free of charge based on an approval process. To apply for a place please visit: ICTInvestmentForum.com