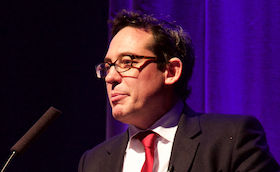 Nothing in business beats the thrill of driving fast growth and exiting with a flourish, and last month's inaugural ICT Investment Forum provided a valuable lesson in both.
Investment, M&A and building businesses have become core functions of the ICT channel, and the inaugural ICT Investment Forum, launched by Comms Dealer, aimed to spur the business growth agenda with a stand-out conference line up that reflected the extraordinary levels of dealmaking witnessed last year. The event, held on February 28th at BAFTA in London and facilitated by TV and radio business journalist and presenter Simon Jack (pictured), proved to be a classic of business growth exploration, providing a springboard for delegates to elevate their strategic thinking as they seek to take their businesses to the next level.
M&A is now built into the way Britain's ICT sector functions, and the greatest stimuli to growth is technological innovation and the catalysts of industry consolidation which went into overdrive last year when ICT channel M&A activity hit a new record. Among the 800-plus ICT and software companies tracked by Megabuyte the number of deals last year escalated to 420, up 19 per cent on 2017 figures – and the dealmaking bonanza is forecast to continue into the foreseeable future with PE a prime cause of consolidation.
The greatest curb on deal success is the unpreparedness of ICT supplier companies in terms of seeking an investment or sale. In this, the sector would have some trouble dissociating the success of its M&A record from the role of advisors (such as ICT Investment Forum sponsor Knight Corporate Finance) who facilitate the process and ensure their clients 'look good on the night'. Knight Corporate Finance co-founders and Directors Adam Zoldan and Paul Billingham provided insights into how delegates can make critical evaluations of their own business and think more strategically about their planning as ever more investors' and buyers' eyes fasten onto prime targets in the ICT arena.
"If a preferred investor or buyer knocked on your door today would your business be ready for sale or investment?" asked Zoldan. "We like meeting people years before they are aiming to sell. During this preparation phase we help set the target and ensure the business is ready for that transaction. It's about building the right perception to create interest and stimulate competition, which is the true driver of price. The perception-building process creates the story, but you need to deliver on expectations once you have the perfect investor or buyer waiting for you. So there is a strong focus on due diligence and execution, because the biggest issue towards the end of the process is not having the right answers to questions. Consistency is key."
Among the greatest aids to making an acquisition is funding, but choosing the right financing option throws up a number of challenges
Of all business growth matters, planning is perhaps the most critical, which was clearly evident in the perspectives offered by Chris Russell, CEO of Arrow Communications, who during his on stage interview shared insights into M&A value creation and how to identity potential acquisitions while shining a light on the factors that define a trademark takeover target and successful transaction.
Arrow has completed seven acquisitions since February 2017 and is now a £50 million business with more than 220 employees. "In 2010 we saw the market was maturing and knew we needed to grow, so we borrowed some money for transactions that took us to £3.5 million EBITDA in 2016," explained Russell. "But we reached a crossroads: How do we materialise that value? PE gave us the hybrid option to crystallise value, keep a stake in the business and have the funds to grow. PE also gives you access to better bank financing because if the banks know a PE firm is sitting behind you the doors open slightly easier."
Arrow has spent £33 million in the last 22 months buying bigger and more established companies, and in each of these transactions a strategic and developed way of going about things has been key. "You do need a process," stated Russell. "You can't just go out there and do a £10 million deal first off, you'll probably make a mistake. You have to feel your way, get experience, find what works best for you and how that fits with the culture of your business. We approach a potential deal in two ways – technical and emotional. Technically, you need to be independent. There are five people on our acquisition team and we have a balanced scorecard system which determines the value range we pay. We score independently and anonymously.
"But the complexity of an acquisition is directly correlated to the number of people joining your organisation. So 'emotionally', if there is alignment and commonality of cultures that will work. But if it's a completely different organisation the integration will be three times as complicated and take three times as long. This ultimately reduces the number of deals you can do. So you've got to make sure you understand the cultural and emotional piece."
Among the greatest aids to making an acquisition is funding, but choosing the right financing option throws up a number of challenges which the Forum helped to unravel. A panel session delved into the different financing options and showed how they affect the running of a business, and highlighted the key aspects of investment criteria, reasons for funding, and how best to meet investors' pre-deal conditions. Insights into how funding methods differ and create business value were also offered, along with tips on how to go about securing funding. "Approach a bank as if you are pitching a client," said Martyn Drake, Director of Growth Capital at Santander. "Selling yourself is key in the first meeting. It's about getting close to the management team and building relationships."
In his session, Philip Carse, Chief Analyst at Megabuyte, explored the key drivers of the ICT market and gave the inside track on where to find growth, profits and cashflow in comms and IT services – and offered tips on how to guard against business value slipping away.
For those embarking on a growth journey or seeking an exit the importance of realising the holy grail of a predicted outcome cannot be underestimated – nor thought about too narrowly. And according to Xentum Managing Director Adam Carolan, who advanced his 'Grab Life' mindset to conferees, the all-encompassing alignment of business and personal assets must be a key consideration when building a business for exit or income.
The ICT sector's M&A and investment economy is structurally geared to generate wealth
Optimising M&A strategies has seized the agenda, and the ICT sector's M&A and investment economy is structurally geared to generate wealth across the entrepreneurial landscape. It's a dynamic that could ultimately create a two tier sector as fast growth and upward mobility will be derived mainly through valuable transactions – with immobility rooted in intransigence. Immobility will be particularly pronounced where resellers adhere to traditional business models and remain oblivious to the fast evolving market that surrounds them.
To say that Daisy Chairman Matthew Riley is upwardly mobile would be to greatly understate the rate of ascent achieved by this comms channel tour de force. Riley's business success is as visionary as it is jaw dropping. In his exclusive interview with Simon Jack the self-made entrepreneur behind the comms channel's greatest reseller growth story opened up on his golden rules of building a business, the watershed moments, the challenges and what makes him tick. And as one of the most inspirational and recognisable comms sector business leaders Riley's growth plans for the future show no signs of slowing down (click here for the Matthew Riley DEALTalk interview).
Pictured: Adam Zoldan and Paul Billingham