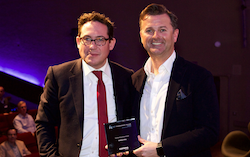 Stand-out business growth leaders were recognised at the inaugural ICT Investment Forum (launched by Comms Dealer and held on February 28th 2019 at BAFTA, London) where the ICT channel's first awards presentations dedicated to M&A, investment and business growth also took place.
During the event, which was sponsored by Knight CF and facilitated by TV and radio business journalist and presenter Simon Jack, delegates saw clearly how the ICT sector's robust M&A and investment market is a barrier against economic uncertainty and a springboard for growth with no boundaries.
"The ICT Investment Forum is a platform for leading acquirers, M&A professionals, investors and advisors to share their insights on the key issues for entrepreneurs wanting to take their growth strategy to the next level or prepare for a transaction," commented Comms Dealer MD Mike O'Brien.
"The Forum aims to facilitate investment and dealmaking and provide a stimulus to M&A growth in the comms sector, and the awards presentations are designed to recognise true leaders in these fields. We congratulate all of this year's winners."
ICT Investment Forum Award winners:
• PE Deal of the Year: Charterhouse Voice & Data
• Growth Business to Watch: Zest4
• Fundraise of the Year: CityFibre
• Transformational Deal of the Year: Excel IT
• M&A Deal of the Year: Evolve IP
• Outstanding Achievement Award: Daisy Chairman Matthew Riley
Pictured above: Daisy Chairman Matthew Riley (right) receives the Outstanding Achievement Award from Simon Jack
ICT Investment Forum Report
DealTalk: Matthew Riley on becoming a comms sector tour de force