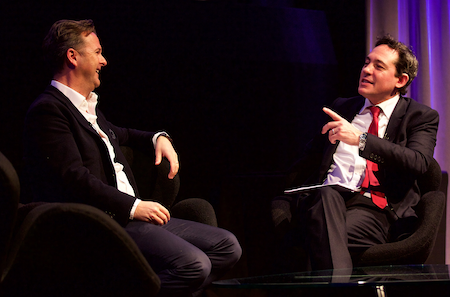 Daisy Group Chairman Matthew Riley is responsible for 52 acquisitions, 12 disposals and circa 4,000 staff. For him, there is no such thing as business-lite.
Riley's first real test was to last the course at school, which he left at 16, two years later than he wished. "From the age of 14 all I wanted to do was earn money," he stated. "I did Saturday jobs including selling horseshoes before joining a Youth Training Scheme which paid £29.50 a week. I still love working – that hasn't changed."
Riley set up Daisy Group as one of the first companies to offer wholesale line rental targeting what he says was the incumbent's Achilles heel, its large size and inability to provide customers with an agile and personal service. He wasted no time in forging a path to fast growth but Daisy's first four years of operation were acquisition free. All that changed when Riley displayed a sharp eye for structuring a great deal when the opportunity arose. "The company we bought was good at sales but not so good at looking after customers," stated Riley. "I put two and two together, removed the operational costs and relocated the business from London to Nelson – all paid for over two years although the deal paid for itself in six months. I had taken on no debt, but when the banks saw our spike in revenues they picked up the phone and were ready to lend."
Riley was at first reticent to take on debt, but with the benefit of hindsight things may have been different. "It's something I sometimes regret," he commented. "Daisy may have got bigger quicker had I put more debt into the business sooner, but at the time it terrified me. If I got it wrong we didn't eat."
Daisy may have got bigger quicker had I put more debt into the business sooner
But as a private company in 2009 fast growth had become a priority, evidenced by a list of 10 acquisition targets that got Riley thinking hard about how to raise the money to buy certain competitors that had got themselves into trouble.
"I had been to private equity but all I could see was them putting debt into my business and it wouldn't give me the pot of money I needed to do these acquisitions," he added. "So we decided to go the other way and became a public company. I don't regret that, it was the right thing to do at the time and helped us to get to where we wanted to be. The upside was £100m-plus to spend and we were taken seriously, able to circumnavigate quite a few processes. And it worked from a public market perspective in the press and media. Customers felt more assured. But I just found it boring and frustrating. When you do 40 meetings and they're all pretty much the same it's soul destroying if you're not that type of person."
Riley was in a unique position where four shareholders owned 92 per cent of the company – making it a private-public business with no stakeholders wanting to sell until a large corporate cosied up with an offer that piqued the interest of most shareholders. "I didn't want to accept it," said Riley. "But the shareholders said it was a good price and that if a similar offer was made we should talk seriously. In that same meeting I offered to buy them out if they were happy with that price and they agreed. I very quickly had to work out how to get the money."
With his fear of taking on debt well and truly overcome, Riley pushed ahead with going private again. "To do something like that you've got to have confidence in your business," he said. "With recurring stable revenues you can have a good view of what's going to happen over the next five years, and that's what gave me the confidence to increase the levels of debt we took on, allowing ourselves headroom to make more acquisitions."
Daisy Group's acquisition process is practical and openly honest with all parties, as you would expect, and often involves no holds barred conversations-cum head-to-head clashes during high level Group meetings on the viability of potential targets. "We have an investment committee where we bring ideas to the table and for people working on acquisition projects that's their baby," noted Riley. "If someone calls a baby ugly that's good as you need to have that open debate, scream at each other, bang tables and wake up the next day as friends."
To say there is much at stake does not fully express the import of what's really on the line in some circumstances. "I can be placing my own equity at risk," considered Riley. "In the case of Alternative Networks, I sat with a cold towel on my head and thought about how much equity I have in the business and whether I'm prepared to risk it on this acquisition at that price."
A current preoccupation is finding an appropriate target in the high level security consultancy space, which is top of mind for Riley. Another priority is to continue challenging his divisional leaders to think differently about ways to go faster and improve the business. "I'm constantly looking at different areas including new companies and how they might mix things up in our industry, and asking whether we are missing anything," stated Riley. "The key is not to get complacent."
Pictured: Matthew Riley (right) collects the Outstanding Achievement Award from Simon Jack