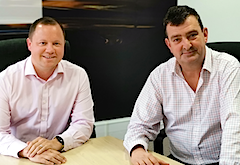 Gradwell Communications has doubled down on plans to secure a greater share of the SME cloud comms market and is rallying the reseller community to join its rolling campaign convoy spearheaded by incoming CEO Simon Curry and former Gamma sales chief Jamie Ward, who's now Gradwell's Sales and Marketing Director.
Gradwell aims to build on strong advances made in the cloud comms SoHo and micro business marketplace where entrepreneurial clients have outgrown their basic comms services and need greater ICT capabilities.
At the same time Gradwell hopes to scale up its wider SME sector ambitions emboldened by its designation as the first 3CX UK Solutions Provider, a status it was awarded in March. 
"Our cloud communications solutions have helped SoHo and micro business clients to grow into successful larger organisations," said Ward. "They are today's SMEs and they want to keep working with us."
The expansion of Gradwell's strategy to address the SME market has prompted a greater emphasis on delivering cloud solutions through a growing posse of channel partners. 
"3CX gives us the opportunity to offer partners out-of-the box end-to-end cloud communications for SMEs," stated Curry.
"By continuing to look after our existing customers while also focusing on our SME sweetspot, Gradwell aims to quickly establish itself as a go-to partner for the channel serving SMEs."
Pictured above (l-r): Jamie Ward and Simon Curry