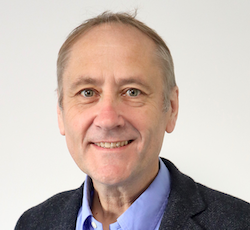 CEOs are well known for being centre stage and leading from the front. Less visible is the Chairperson who runs the board and operates away from the limelight.
Here, Gradwell Communications and Comms365 Chairman John Whitty shares insights into how this important role is evolving, and how the Chair's experience and influence can increase the performance of a business and its leadership team.
What was your route into the comms sector?
Following 20 years in the Army, providing telecommunications services to the military, I was fortunate enough to join what became Pipex. During the post dotcom bust there were a lot of distressed assets that we managed to consolidate quickly and effectively. Mergers and acquisitions are a passion of mine, especially the identification and negotiation of the deal, and I've been involved in 50-plus transactions over the last 20 years. Most recently I was the MD at GCI and CEO at Solar Communications and Air IT.
 
What makes a good Chairperson?
I have managed to work with a number of Chairs over the years and the most useful and effective are those that listen, constructively challenge, guide and mentor. I was lucky enough to have these qualities provided to me in spades by Mike Read at Pipex.
 
How do you personally impact the strategic growth and development of the businesses you Chair?
My biggest contribution above and beyond the Chairman duties would be knowing how to grow by acquisition and organically in a service company providing technical capability. Knowing when the organisation needs to change direction and structure, bringing in new skills and capabilities for that next step in the journey is sometimes difficult to see when you have existing friendships and loyalty to those that have grown the business in the early years, but is sometimes necessary to achieve the goals of the owners.
What elements of your prior experience come into play in your current roles as Chairman?
Being part of an energetic and forward thinking team, sharing my experiences and pain endured by taking the wrong decisions at times, all hopefully adds value to those at the earlier stages of their careers. The ability to share what can be achieved with the right team and right execution plan is extremely rewarding. And being in fast-growing and acquisitive organisations for over 20 years enables me to foresee, in many cases, the opportunities and pitfalls of the decisions that stand before us. It also allows me to understand what elements of the business and its operation is important to prospective buyers on exit. Always being prepared to realise the value of the business is key.
 
How is the Chairperson's role evolving in the ICT channel?
I would like to think that the new Chairperson role is less responsible for governance, although that's still critical, but also willing to contribute and participate in the vision, strategy and execution of the business, especially in areas where some of their experiences are less available in the team. Being prepared to roll up your sleeves and get involved when requested can help tremendously.
The relationship between the CEO and Chair is fundamental to the success of a business, especially where an institutional or financial investor is involved. Being able to understand both the business and shareholder positions and bring the two together is important, especially in the ICT sector where we tend to use a different language than others.
 
What are the biggest challenges facing ICT channel boardrooms? And what decisions are you prioritising?
The biggest challenge right now is recruiting, training and retaining good people. The sector is growing at such an organic rate that ensuring you are able to meet that growth with new talent, notwithstanding attrition is not an easy task and involves important decisions.
 
What is the most difficult aspect of being a Chairperson?
Without a doubt its not diving in and trying to fix challenges or lead opportunities personally. The Non-Exec/Exec line is fine but needs to be maintained so that all parties are able to grow and thrive.
 
How do you advance your own professional development?
By listening to people who have successfully grown their businesses, listening to non-operational experts such as the investor and advisory community given their great analytical skills, and staying in touch with technological advances at conferences and events.
 
What market trends interest you most?
The consolidation of the market has only just begun. As great businesses are acquired there appears to be new, dynamic and forward thinking start-ups to replace them.
 
In general, what are today's primary leadership priorities? And what is the key to continued success?
The main leadership priority today is making sure you have the right people that are motivated with an excellent esprit de corps, that are dedicated to deliver the best service to their customers. To remain successful, a business needs to be innovative in its products and propositions, go-to-market strategy and the customer experience offered to clients.
 
What challenges do you expect to face in the short-term? And what will be the leadership challenges of tomorrow?
The economic situation we currently face has resulted in much stricter investment decision making criteria, which may prevent good gut feel opportunities being taken.
What is the role of the Chairperson in helping boardrooms become more diverse, and businesses become more sustainable in terms of climate change?
Investors, young people and customers are all looking for businesses to set out and achieve their ESG policy. To help with this, the Chair needs to ensure that the business is acting ethically in all areas and should be a standing agenda item for the board. Failing to do so will impact new business, recruitment and investment.
 
What motivates you most? And in what is your boardroom pet hate?
What motivates me the most is seeing a leadership team develop, mature and benefit from their hard work and determination. I especially dislike bad timekeeping and long rambling emails.
 
What are your key nuggets of advice to management?
To understand the market, understand your customers' needs, trust your people and then just back yourself to succeed.
 
Your role model?
Mike Read, my former CEO at Pipex. Mike's management of his people, customers and investors was a joy to watch.
 
What talent do you wish you had?
To play any musical instrument
 
What do you fear the most?
Not succeeding or not being ready to retire
 
What is your main strength and what could you work on to improve?
I like to think I have good emotional intelligence, but my attention to detail could definitely be improved, as well as my typing skills.
 
How would you like to be remembered?
As someone with honesty, integrity and loyalty.
 
Name one thing you couldn't do without in your job
My network of friends and former colleagues who are always available to bounce ideas off.
 
Best piece of advice you have been given?
Treat everybody with respect as you'll meet them at least twice on the way up and on the way down!
 
What possession could you not live without?
Espresso coffee maker.
 
One example of something you have overcome
I left school at 16 with two grade A CSEs (the GCSE forerunners). I have had to obtain my academic qualifications while holding down challenging roles.
 
If you weren't in comms what would you be doing?
Something boring and definitely not challenging, probably related to collecting trolleys at supermarkets. ICT is all I have ever known.
 
What's the biggest risk you have taken?
Leaving a safe and promising career in the Army to join an industry that went into meltdown 12 months afterwards.
 
How do you relax when not working?
I'm still working on that.
 
Top tip for business leaders in the comms sector
Get ready for growth and be ready for sale.