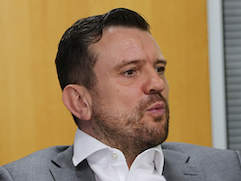 Brand unification marks the next phase of Firstcom Europe's development as the cloud comms provider brings its UK subsidiaries Telesis and Difference Corporation under the parent company moniker.
According to CEO Christian Bleakley the move is also reflective of a UK restructure, strategic refocus and expansion.
"Our strategy has evolved," he stated. "Firstcom Europe will project one image to the market, each of our companies leveraging off the other. 
"Our focus was to move slowly away from the existing names so as not to lose their brand recognition and then move toward Firstcom Europe. That time is now over and we are merging our operations and identity to be more integrated."
Bleakley conceded that when the firm started out in Bolton 12 years ago he did not imagine that it would become the centre of operations for a European business
"Many of the original team have stayed with us and their experience has grown with the company expansion," he added. 
"The high demand for cloud services has seen us strengthen our team by 20%, even in the middle of Covid, to include more technicians, customer support, finance and channel staff. We have streamlined our business to make it easier for the channel to work with us."
Firstcom Europe currently operates in the UK, Germany, Sweden, Denmark and Poland, and is seeking to make further acquisitions within this footprint. 
Over the past six years Firstcom has made eight acquisitions and achieved an annual turnover of more than €36m.