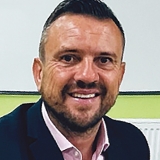 With new headquarters and a couple of acquisitions under its belt, unified communications provider, Firstcom Europe has had a busy October. The harsh economic headwinds that are being predicted for the next few years have not blown Firstcom Europe off course. It's sticking to its plans.
Christian Bleakley, CEO of Firstcom Europe remains restless and ambitious for his company's future. Over the past nine years Firstcom has made ten acquisitions and increased its annual turnover from £2.7m to over £36m. It is headquartered in Bolton and currently operates in the UK, Germany, Sweden and Denmark. Firstcom is an expert in unified communications where customers can use messaging, voice calls, video or fax on the device they choose. Firstcom has just acquired Calteq Ltd, located in Hertfordshire and Suffolk. The deal adds an extra £6.2m of turnover and £1.2m of EBITDA to the Firstcom group and expands both its UK geographical reach and range of products. On top of this it has bought Raspberry Beret and a couple of customer databases and has more acquisitions in the pipeline.
Starting his telecoms career in Bolton in 1993, Christian worked his way up the ranks eventually starting his own telecoms company in 2009. Many of Firstcom's original customers are still with the company and some partners and suppliers have been working with it for the 13 years.
Its new headquarters is a vital step forward in Firstcom Europe's development. The benefits of remote and hybrid working are well-known, but for Firstcom, office based work is crucial when it comes to building teams, mentoring and training. "Creating an environment where your colleagues want to learn, work hard and move forward in their careers is essential for company success. This ultimately affects everything a business does, including its growth trajectory", commented Bleakley. The new headquarters in Bolton has large amounts of natural light, is heavily branded in the company colours and allows easy collaboration between colleagues from different parts of the organisation. But complacency is not on the Firstcom agenda. According to Bleakley, "Technology that was just being introduced when I joined the industry, such as ISDN, will be ripped out by 2025, and new IP cloud technologies will replace it. Very few people had heard of video conferencing three years ago, now everyone demands it. Broadband is now considered to be as important a service as water or energy. To be part of an industry like telecoms, you simply cannot stand still."