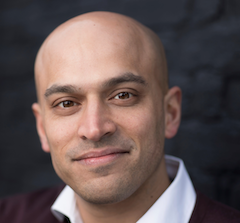 Talk of full fibre potential has long been rife in the industry. But let's all stop the hype and bring a swift end to the complexity that could stifle its growth, urges TalkTalk Business MD Jonathan Kini.
The comms sector seems unable to escape the stain of being too complex even as we enter the new generation of fibre connectivity variants. Few who have followed the industry over decades will be surprised – jargon and complexity just won't go away –  but it's time for the sector to up its game, believes Kini, who is busy putting his words into action. "My number one priority is to enable every business in the UK to have access to full fibre connectivity because it has the power to completely transform the market," he stated.
"The Government has set out a clear mandate to roll out full fibre in more areas of the UK and the channel can achieve this if we work together. However, the main challenge is making it simple. Simplicity is hard to achieve, but harder to copy. In the new full fibre world there will be multiple providers working with multiple altnets, offering different versions of full fibre. My first job is to simplify TalkTalk Business' full fibre offering."
Simplifying these complexities would be the outward manifestation of an industry that meant business, he says, and on this TalkTalk is not entertaining half measures. "The future is all about full fibre, it means lower churn, higher retention, long-term lowered cost to serve and a much higher customer satisfaction score," he stated.
"But we must kill the acronyms and make the industry more accessible. We're exploring how to simplify our operations, as well as access to connectivity. The feedback we've received from partners has helped us to enhance the service we offer. For example, we've recently launched a new online billing portal for partners to access all billing information online. Advancements in technology for customer premise equipment and routers will also be crucial to the rollout of full fibre."
We must kill the acronyms and make the industry more accessible
Kini joined TalkTalk Business in September last year following the departure of former MD Kristine Olsen-Chapman. He previously held senior roles in Virgin Media and Vodafone across both B2C and B2B, most recently working for Drax as CEO of the Customer Business. He also works as an advisor to the Bank of England. "The TalkTalk leadership team I met during the interview process made me realise that underpinning the company's culture is a desire to achieve," he stated. "They cut through the bureaucracy to disrupt and challenge the status quo. I'm here to develop the next stage in our partner investment."
Kini, who is from Manchester, champions the region as much as he advances the case of straightforward comms, and it is perhaps symbolic that TalkTalk has laid down roots on his patch. TalkTalk joined the Northern Powerhouse Partner Programme last year (after moving its HQ to Salford), an initiative working to boost the northern economy with investment in skills, innovation, infrastructure and culture. "For far too long, business has been centralised in London and the south of England," said Kini.
"We have fantastic talent in other parts of the country, and I'm pleased that many organisations are realising the potential in the north. As part of the University of Manchester alumni community, I'm excited to be back in my old stomping ground."
Another indication that Kini cannot resist championing important causes – in addition to kiboshing complexity and flying the northern flag – is reflected in the great significance he attaches to climate change. He is Chair of Business in the Community's (BITC's) Net Zero Carbon Taskforce, working with Government, BITC and businesses of all sizes to find simple and effective ways to help companies take action and create a more sustainable future.
"Increasing awareness is a huge passion of mine," he said. "We're working with other carriers to better understand the carbon footprint of the megabyte. It matters to us that we're a responsible business."
There seems to be no headline project Kini has lacked an influence. Today, most industry debate has switched to the subject of fibre and 5G, which he describes as 'best friends'. And the rise of mobile also saw Kini act as a prime mover. "Connecting people as mobile penetration grew from 50 per cent to virtually everyone, and working with the team at Virgin to put the Internet into the hands of over one million customers in the move to smartphone contracts was exciting," he said. "More recently at Drax we helped 10 per cent of UK businesses make the transition to renewable power. I am seeing a similar shift in the market as it transitions to full fibre."