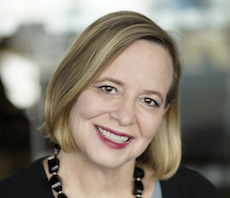 The art of winning in Digital Britain is that of speed and agility in grasping new innovations that surround the roll out of full fibre and 5G. On that there is no fall-back other than to lurch towards the copper cliff edge.
According to TalkTalk Business Managing Director Kristine Olson-Chapman the UK's full fibre vision is emerging into market reality, laying the foundations for a new era of innovation in Digital Britain. "The capacity, speed and reliability that full fibre brings enables the channel to provide cloud-based services and applications, many of which haven't been invented or developed yet,"  stated Olson-Chapman. "Key innovations all have one thing in common – they rely on secure connectivity to access compute power and big data in the cloud. 
"Whether it's mixed and augmented reality transforming the retail sector while enhancing communication and collaboration; robotics automating the more repetitive office tasks and customer interactions; or how the IoT and Artificial Intelligence will transform the connected home or office – having the right connectivity is key. Furthermore, the channel understands customers, their business and their future needs. The most successful will be those that deliver real value by putting new technologies and great connectivity together."
The Digital Communications Review (DCR) represented a real pivot in strategy. Previously, Ofcom largely accepted Openreach's infrastructure monopoly
This is the vision contained within the Government's much welcomed Future Telecoms Infrastructure Review which was published in July last year. It set out a national long-term digital strategy with full fibre and 5G services confirmed as the de facto infrastructure of the future. Key themes in the report, pointed out Olson-Chapman, include the wholehearted backing of competition as the best way to deliver widespread FTTP; a practical focus on addressing the barriers that add unnecessary costs or delays to fibre roll outs; and an acknowledgement that rural areas must not be overlooked. "The commitment of £3-5 billion for FTTP in the final 10 per cent of the country is an important step, but at a time of competing pressures on Government resources we don't yet know when that funding will be released and when rural areas will benefit," commented Olson-Chapman. 
"FTTP coverage will take a while to reach the majority of homes and businesses, so resellers will need a partner that can support their customers on the journey from existing services through SOGEA (the data-only fibre to the cabinet access option) before getting to FTTP. By 2025 we expect approximately half of the UK's premises to lack FTTP access. Therefore, a provider that can offer resellers options to transition to dedicated Ethernet access as well as smooth migration to SOGEA will be crucial."
Olson-Chapman highlighted a number of challenges that lie ahead, such as timelines, citing wayleaves which may require primary legislation to resolve. "That isn't going to happen quickly, particularly if Parliamentary time is dominated by Brexit-related legislation," she added. "The risk is that we don't see a meaningful benefit for several years. Some issues can't be resolved by central Government alone. Reforming street works, for example, requires cooperation with local authorities which have their own competing priorities."
Is Ofcom sending the right signals and displaying well informed intent in terms of creating a level competitive playing field, and encouraging the conditions to ensure the industry meets the Government's target for UK wide full fibre and 5G roll out? There are two aspects to this question, believes Olson-Chapman – the strategic direction of travel and the tactical implementation. "Strategically, Ofcom is heading in the right direction," she stated. "The Digital Communications Review (DCR) represented a real pivot in strategy. Previously, Ofcom largely accepted Openreach's infrastructure monopoly and focused on creating competition at the retail level. The DCR changed that and Ofcom is now explicitly supporting competition at the infrastructure level as the best way to achieve quick, widespread FTTP coverage. That mirrors the Government's approach and is a welcome change in strategy."  
The next question, however, is whether the practical steps required to support alternative network investment are moving quickly enough. Ofcom and the Government are focusing on many of the right issues – a workable, affordable system for altnet providers to access Openreach duct and poles; reforming wayleaves to make it easier to roll out FTTP on private land; standardising streetworks; and new rules to speed up the deployment of FTTP to new build estates. "Some of this will require legislation, meaning it will be several years before we see the practical benefit," noted Olson-Chapman. "It's crucial we maintain the momentum and move as quickly as possible."
We need Ofcom to define what the Openreach transparency obligation looks like in practice so everyone is clear
She highlighted other areas where Government and Ofcom need to go further, such as Openreach transparency. "The Government's FTIR rightly sets out an expectation that Openreach has a unique obligation to be transparent with the market about where it plans to build and enable altnets to avoid accidental overbuild," she said." That principle is important, but we need Ofcom to define what the Openreach transparency obligation looks like in practice so everyone is clear. That's crucial to ensuring the maximum number of homes and businesses benefit from FTTP."
Ofcom understands the dynamics of the B2B market, including the importance of the channel, believes Olson-Chapman. But on big decisions it's likely that established players with large regulatory and legal teams will shout loudest. "That potentially squeezes out the channel voice," she commented. "The only way to stop that happening is for the channel to engage with Ofcom, which can be difficult without dedicated regulatory teams. One option is to work with larger partners. We are keen to talk to partners and share our understanding of what's happening, what it means for the channel and how the channel can best use limited resources to have its voice heard on the issues that really matter."