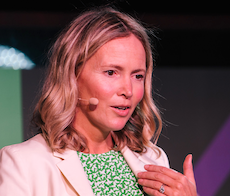 TalkTalk Chief Executive Tristia Harrison (pictured) has welcomed the Budget announcement of a £5bn boost to rural broadband supply but strongly urged Government to ensure it creates the market conditions that will help ensure its fibre ambitions are met.
"Investment in levelling up and Britain's full fibre future is vital, so the Budget measures are hugely welcome, particularly getting to harder to reach areas that have been left behind for too long," stated Harrison.
 
"But for Government to reach its full fibre roll out target, three things are vital: the consumer – so prices are fair; competition – so the £5bn rural subsidy doesn't end in one company's hands; and co-operation within industry to deliver for the whole country." 
Chair of the Internet Services Providers' Association Andrew Glover also believes that increased funding alone will not be enough for the industry to get the job done.
"Broadband rollout is largely privately funded and in order to provide industry with a chance to meet the Government's 2025 ambition, today's announcements needs to be backed up with further reform on wayleaves, new build legislation, action on street works and further investment into digital and engineering skills," he said.
"The broadband industry is ready to get the job done but needs the full support from Government to do so."
Mark Williams, MD at Berkeley Research Group, observed: "The challenge for the Government and Ofcom is to ensure that this public funding is used quickly, efficiently and does not replace private investment that the operators would have made anyway."
County Broadband CEO Lloyd Felton says the £5bn boost to support upgrading rural digital connectivity, together with the news that more private investment in the sector is planned this year, means Independent Networks will have a central role to play in enabling tens of thousands of premises to receive full-fibre connections.
 
"Upgrading the UK's underlying outdated digital infrastructure is essential to unlock the country's economic growth potential and will enable households, businesses and communities to move out of the digital slow lane and compete with the rest of the world post-Brexit," said Felton.
Gigaclear founder Matthew Hare added: "Delivering full fibre for all, means building full fibre past four million properties per year every year from 2020 to 2025. That's 16,000 properties being offered access to full fibre for the first time every working day. 
 
"In order to achieve this, we need to amend or suspend regulations and bylaws that are designed to provide checks and balances to new infrastructure build, and as a result slow down and increase the cost of that build. 
 
"And in parallel, we must remove any barrier that delays or prevents consumers switching to full fibre broadband at pace."
The Budget announcement prompted CityFibre CEO Greg Mesch to reaffirm his support of the Prime Minister's commitment to level-up the country with a full fibre network by 2025.
 
"Britain is a service-based economy that runs off the internet, and the Internet works best on full fibre," he stated. 
"This technology is creating a digital infrastructure that will enable more 5G network services, smart cities, and will establish a platform the country needs to thrive in the future."