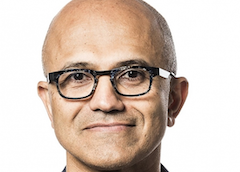 Microsoft has posted Q3 revenues of $35bn, up 15% and 16% in constant currency.
The Covid-19 crisis saw productivity, business, intelligent cloud and remote working drive increased cloud usage, but there was a slowdown in traditional licenses from small- and mid-sized businesses and LinkedIn and search ad spending.
The supply chain constraints for Windows OEM and Surface eased late in the quarter, and demand increased due to the remote work shift, it says.
Amy Hood EVP and CFO, said: "We saw increased demand from work, play and learn-from-home scenarios, benefiting Windows OEM, Surface, Office Consumer and Gaming. This was partially offset by a significant reduction in advertising spend, which impacted our Search and LinkedIn businesses.
"In our commercial business in March, we saw healthy Azure consumption and increased usage across Windows Virtual Desktop, Power Platform and Microsoft 365, particularly in Teams and our advanced security solutions. However, we also saw some changes to our sales dynamics, particularly in the industries and segments most impacted by COVID-19. We saw a slowdown in our transactional business across segments but particularly in small and medium businesses."
In Enterprise Services, growth rates slowed as consulting projects were delayed. The outlook has a wider than usual range to account for the coronavirus uncertainties. Microsoft also assumes that the remote work tailwinds will continue through the quarter.
Satya Nadella (pictured), commented CEO on the long term changes: "There are three phases here, and there's overlap," he said. "For example, the phase we are mostly in right now is that first response space, where from business continuity perspective, people want to be able to work remotely, want to be able to conduct remote operations. That's what's leading to increased demand in Teams or increased demand in remote desktop and security."
"If you think about the next phase of recovery, it's more like a dial. Things will start coming back in terms of economic activity and we'll have to keep adjusting the dial. This hybrid work is going to be there with us for a period of time. That's where some of the sort of architectural product strength of ours will be very useful to our customers.
"Teams is not just about having lots and lots of video meetings. Teams is about actually getting work done where meetings and video is one part. So that's, for example, something the utility of it will only increase for our customers as some people come back to work, some people are remote, you have to collaborate without any fatigue. So that's that second phase."
And then the third phase is where there is going to be structural change. "There's no turning back, for example, in telemedicine. If you look at even what has happened in this first phase with AI bots powering telemedicine triage. That's going to change what health care outcomes look like. Same thing in education."