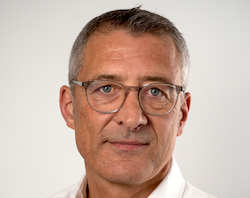 Last month's lockdown saw a panic rush to home working that will transform how businesses operate, says BT Wholesale Channel Director Gavin Jones, who also updates us on BT's virus response status.
When the nation entered near shut down mode businesses had no option other than to support a greater number of people working from home. "But many organisations are now in an economic environment that calls for fiscal caution and it's going to be critical that the entire sector looks for ways to enable and support the necessary shift to digital," stated Jones.
He noted that partners urgently provided solutions such as hosted voice platforms which many firms turned to for better business continuity in the current crisis. "Offerings such as this and other remote working tools will likely become a permanent part of operational normality once businesses and their staff realise the benefits of a better connected, location agnostic world," he added.
"Partners also reported a surge in demand from existing customers with established flexible working patterns requiring network capacity upgrades to support far greater volumes of remote workers. We worked fast to enable our channel partners to rapidly introduce special offers and free licensing across our hosted voice portfolio."
 
Delivering new technology at pace through partners is just one challenge, observed Jones. Understanding how to implement technology correctly to make it as effective as possible is also critical. "We boosted our online help and support content so partners could make it easier for customers to quickly enable their staff to get used to a new way of working," he added.
It is true that the nation has embarked on a journey into greater uncertainty, and at times like this we need clarity and direction as long-term confidence urgently needs to be restored. "It's an extremely difficult and worrying time for businesses, including our channel partners, and we are working to find ways to support them by creating breathing space over the coming months," explained Jones. "We're exploring how to provide flexibility to temporarily change the nature of their business with us to help them better weather the storm. I'd encourage any of our partners who are concerned about their, or their customers' financial stability, because of the impact of Covid-19 to contact us to discuss their options."
Operational plans already implemented to support partners include a 24/7 split shift for support staff assisting with data, hosted voice and IPEX repairs that will be kept isolated from colleagues to minimise service impact should individuals need to self-isolate or fall ill. Jones also noted that the data provision team operates from a number of sites across the UK.
"We are taking steps to ensure our site notification services continue," he added. "This includes where customers advise that if sites are going into lockdown or closing, they provide us with advance notice so we can free our teams up to support other partners."