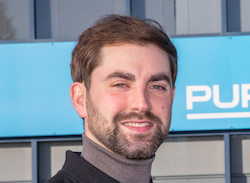 Pure Cloud Solutions has reported a 20% uplift in revenues to £5.4m attributed to its mobile centric approach to home working enablement.
The company has offices in Tamworth and Clydebank and won a hatful of contracts including deals with Birmingham City Football Club, Electrium, the Royal Shakespeare Company and SPS Aerospace.
Pure Cloud Solutions is working with business advisors and accountants Haines Watts on targeting a number of acquisitions.
"We are taking on companies ten times our size and winning new contracts because clients want bespoke solutions, not an off-the-shelf option," stated MD Jamie Lake.
"Investment in the latest software and infrastructure means we can deliver what businesses need and this has been evident during the pandemic when our expertise in mobile first solutions has come into its own."