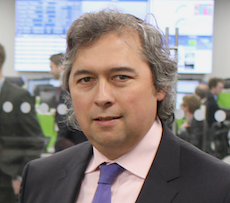 AI and machine-assisted customer communication is the channel's chance to help organisations combat agent and client dissatisfaction, turning contact centres into hubs of value creation.
That's according to Content Guru Deputy CEO Martin Taylor, who says some verticals, especially B2C focused ones like retail, are spearheading a revolution towards omni-channel machine-assisted customer engagement. Customer experience has become the brand differentiator, he says, and organisations that leverage AI to get into the top quartile for customer satisfaction (CSAT) can increase their profits significantly. "The difference this makes should not be underestimated," he stated.
Consumers have adopted omni-channel technology far quicker than businesses, and customers expect instant gratification, shifting channels depending on the nature and urgency of their enquiry. "Being able to combine a range of different contacts over various channels to give a contact centre advisor a coherent picture of the customer journey is essential," commented Taylor. "It's also about integrating with underlying information systems, including CRM, and systems such as those used for hotel bookings."
Workload is the number one source of agent dissatisfaction and churn, and a single portal for all channels is vital for reducing the pressure they experience. "Intelligent automation which combines human agents with machine agents is key," stated Taylor. "The most effective AI implementations work alongside and augment people, rather than replace them. AI takes away the mundane enquiries and allows agents to become specialists, increasing their value and job satisfaction."
Intelligent automation which combines human agents with machine agents is key
AI can assist all areas of the contact centre, and provides more efficient data management from a CRM to enhance personalisation. "In workforce management, AI can result in intelligent forecasting and scheduling through self-learning algorithms and more accurate agent productivity and reporting," said Taylor. "AI can present information to an agent during an interaction, rather than requiring a person to search for it, and can automatically fill out forms during the conversation. It can also boost the accuracy of QM programmes and streamline contact routing processes."
Content Guru is seeking to reduce the 15-20 per cent of agents' time spent on looking things up, by ensuring that constant information is presented to them. "This makes agents happier, reduces training time and lowers the resulting cost," said Taylor.
Chat often emerges as the number one preferred method of contact for under 35s, which make up the majority of the population in many parts of the world. "Data gathered from the customer's journey on a website should dictate when a web-chat is offered to a customer, with a view to how it can help them," said Taylor. "We are working with one of Asia-Pac's biggest e-commerce platforms to support chat contacts and subsequent agent routing."  
It goes without saying that customers will not put up with endless transfers and data capture. They expect the company to know who they are and they expect a swift resolution within one interaction. However, age demographics, to a large degree, set channel expectations. "Older consumers favour voice, while younger people focus on web-chat and social media," added Taylor.
"We also expect young people to enjoy using voice with a machine when the quality of responsiveness delivers on expectations, which NLP now does. Indeed, in regions like Hong Kong and Taiwan most SMS is dictated rather than typed. As such, the ability to handle all channels on a single system becomes increasingly important."
The next big shift is unification rather than integration, according to Taylor. "Vendors like Content Guru are branching into complementary technologies," he said. "We see unified CRM as the most important evolution. The next big trend is analysing this data to provide proactive and personalised interactions and customer lifecycle management, with greater overlaps into marketing. We are also providing QM monitoring within the CRM thanks to our recent acquisition of Weston Digital Technologies. This allows us to apply AI to QM, utilising screen recording and allowing agent performance to be monitored in real-time."
Content Guru is currently doing research with the UK Contact Centre Forum on the future of customer service. Early results suggest that more interactions will be handled online, with many of these automated by chatbots and web self-service. "An omni-channel contact centre with AI working hand-in-hand with human agents is going to be vital for any organisation that doesn't want to be in the bottom quartile for customer engagement," said Taylor.
"Companies in the top quartile see 87 per cent less churn from their employees, and are 44 per cent more profitable. And addressing customer engagement is easier for CEOs looking to transform their business compared to making changes to products and services. It's all about taking customer contact from cost centre to value centre."