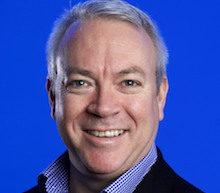 Winchester-based Cloudcell Technologies has completed the first phase of its fast growth strategy and, says Managing Director Kevin Boyle, there is much more to come.
The company is poised to embark on a ramped up channel building campaign that marks the beginning of a new period in the Cloudcell journey towards becoming what Boyle describes as 'the dominant force in enterprise grade connectivity'. 
Boyle, a former Sales Director of prominent and fast growing reseller companies, decided to turn personal vision into strategy and create his own business, establishing Cloudcell Technologies three years ago in response to the convergence of connectivity and cloud-based services.
The company quickly gained traction in its chosen markets and has witnessed notable success with blue chip organisations. The launch of Cloudcell Connect, an enterprise grade connectivity platform, into the construction sector was followed by a similar roll out to large marine vessels, the events industry and also to provide pre-Ethernet support for a number of channel partners.
 
"CloudcellConnect can be supplied to any location, urban or rural, on land or at sea," stated Boyle. "We are currently experiencing significant growth in the marine and construction sectors, in part driven by investments in raising awareness of our propositions in these key sectors, such as our participation in UK Construction Week this month. We are also running a free data promotion for new customers until the end of 2018." 
Cloudcell's primary technology partners include Peplink, Panorama Antennas, Poynting Antennas, EAD, EE, Gamma and Daisy. New technology areas of particular interest to Boyle right now are in the migration of enterprise connectivity solutions to the cloud, such as cloud-based VPN concentrators. "We also spend time and resource on antenna expertise, focusing on the right hardware not only for the now but for the future," added Boyle.  "For example, Peplink has a diverse product set for SD-WAN applications."
We are addressing the ever inherent and continuing issues with traditional forms of connectivity
According to Boyle, overall messaging in the channel is looking 'tired', almost unchanged for ten years, he believes. "The time is ripe for disruptive forces to make their influence felt by introducing alternative solutions that create new revenue opportunities, like the latest in SD-WAN technologies," he stated. 
"As an early adopter of SD-WAN we were among the first proponents of the technology's broad range of benefits, including hot failover, load balancing and more importantly bonding – using commodity WAN options without having to invest in dedicated, expensive Ethernet circuits or experience deployment delays. The advent of hosted VPN termination in the cloud is another significant game changer, eliminating hardware lead times and enabling a Connectivity-as-a-Service business model." 
Having successfully launched his reseller proposition and experienced rapid traction with partner recruitment it soon became apparent to Boyle that he needed to invest in engaging and educating the channel. He commented: "Who in the channel hasn't experienced network issues or a failure to deliver on time with a traditional vendor? We are addressing the ever inherent and continuing issues with traditional forms of connectivity and maximising our reach by actively recruiting resellers."