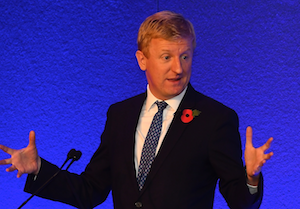 At this turn in the nation's digitalisation journey only one thing matters – delivery on the ground. And the channel has a golden opportunity to work more closely with the Government as it undergoes its own transformation, stated Minister for Implementation Oliver Dowden CBE in his opening keynote at this year's Comms Vision Convention (Gleneagles Hotel 7th-9th November).
The upshot of Dowden's address is glaring: He backs full fibre and 5G to the hilt and believes that it is vital to get a workable Digital Britain transition underway which includes sweeping changes to how the Government procures digital services.
"We need to discuss the outcome we want with tech companies, and understand how we can redesign procurement with a radically different process, while offering the right incentives for companies to design and deliver new solutions," he stated.
Dowden proposes that the last thing the Government needs is a flawed procurement process that excludes smaller ICT providers and is also open to abuse. 
"Too often we rush straight to procurement and have a short window," he said. "Over the course of the delivery contract we may see slippage in terms of timings, and in some cases we experience companies putting in low bids with an expectation that over the course of the contract they will renegotiate and extract more value. This is not a sensible approach to Government procurement and excludes the more honest companies that submit realistic bids."
The Government must build up its digital capabilities or lose the confidence of citizens in its ability to deliver services, noted Dowden.
To offset a public loss of faith he announced the launch of a Government Innovation and Emerging Technology strategy next spring which will reflect the technological revolution experienced by people in their private lives. "If we get this right we can deliver more for less and enable more tech companies to get through the door of Government," added Dowden.
"I have responsibility for GovTech and how we deliver full transformation and Government procurement. Smaller providers don't have large procurement departments, they can't spend hundreds of man hours on procurement, so we will make it easier for them to bring their skills and expertise to Government."
The Government's existing procurement processes are not enough and go only a little way towards meeting its digital objectives.
Attention must also be concentrated on best practice and collaboration via the Government Digital Service which has created a cross department capacity that enables it to seize opportunities and take a more innovative approach to going digital. 
"We can't be cutting edge, nor take risks, but we should make sure that the tech transformation in the private sector is reflected in the public sector," added Dowden. 
"We must consider the transformative outcome we want to achieve rather than fall into the trap of doing what we've done before in the same way."
The single biggest boon to the creation of Digital Britain is the Government's commitment to full fibre and 5G, but delivering Digital Britain on the ground is a big challenge and a priority for the Government. 
"It's easy for politicians to stand on platforms and make promises, more challenging to get legislation through parliament, but the real difficulty is delivery on the ground," he said. "The creation of a Digital Implementation Taskforce will help work through these issues." 
Meanwhile, the Government will capitalise on existing strengths in automation, noted Dowden. "HMRC's deployment of robotic processes has cut costs by up to 80 per cent, increased accuracy and employees can now focus on interesting and more challenging work," he added.
Dowden's keynote kicked off a high calibre agenda that gives delegates a strategic sense of what Digital Britain means to the channel following the Government's full fibre switchover plan which is expected to be mainly completed by 2030.
The Government intends to increase competition and investment in full fibre broadband, create more commercial opportunities and make it easier and cheaper to roll out the infrastructure for 5G.
According to Government figures the UK has only 4% full fibre connections and lags behind many key competitors – Spain (71%), Portugal (89%) and France (28%).
Dowden was appointed as Parliamentary Secretary at the Cabinet Office on 9th January this year and elected as the MP for Hertsmere in May 2015. 
He is responsible for Government technology including the Government Digital Service, Infrastructure and Projects Authority and the Crown Commercial Service.