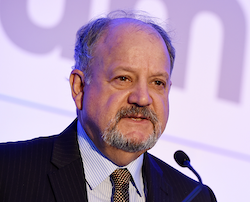 By Chris Boeree, Chairman, BPL Business Media Group
It is with great sadness I must report that John died on April 16th after a short illness.
John worked in the IT Channel sector for most of his working life. Migrating from IBM channel sales in California to ICT channel journalism over 25 years ago, John became a highly respected editor with the launch of Channel Business in 1996. He subsequently became Editor of IT Europa where he served for 15 years until retirement only last May.  
There were so many special qualities to his character, but he will be best remembered for his zest for life, his love of performing live music with his band, and his amazing network of friends and colleagues.
Colleagues loved his dry humour at work and at the same time highly respected his organised and thorough approach to interviewing industry leaders at IT Europa conferences and events.
John had very high standards and placed an enormous amount of emphasis on building channel relationships, and even in this digital Zoom era he knew that nothing could ever replace relationships that were built on trust and value add service.
He possessed an insightful memory, and it was amazing how much he could recall about previous industry initiatives and people in the business.
John would always push the boundaries on new concepts and ideas, and he would explore all the media angles to get the best out of an interview. Many people who worked at IT Europa will remember John as their role model and mentor and someone who guided them through the intricacies of channel marketing.
He knew people from every corner of the ICT channel industry and made friends wherever he went.
John's passing after what seems like five minutes of retirement is a great shock. It was only last October that we met in Falmouth for a belated celebration of his retirement when he asked for an update on IT Europa's plans post-Covid. It only took a moment for all the ideas to flow from his considerable mind. 
John leaves his wife Gill and children Charlotte and John who were very close to him and immensely proud of him.
He was in a class of his own and the experiences we all had with John will always stay with us.