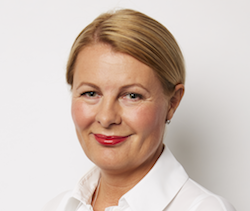 As throughout the comms channel's history, technological advances and innovations in ICT require partner businesses to shift direction and service providers to keep pace with change and map the road ahead – perhaps more so now than ever as we consider the new realities of Digital Britain, according to BT Wholesale's Managing Director Alex Tempest (Comms Vision Platinum sponsor).
The reality of Digital Britain is that its momentum will yield short and long-term disruption across all private and public sector markets. But history shows that agile ICT providers can survive and prosper under such conditions. Even though the march towards Digital Britain will perhaps be the ultimate test of their ability to adapt and flourish, the challenge will be eased by working in partnership with progressors such as BT. According to Tempest, BT is enabling digital Britain via its investment in fibre and the One BT strategy. Meanwhile, Openreach's Fibre First programme aims to reach 10 million premises with full fibre by 2020 under the right conditions. 5G will also be super-critical in delivering Digital Britain, and having secured 40MHz of 3.4GHz spectrum BT hopes to deliver speeds of over 1Gbps when its EE mobile business trials a 5G network in East London next month. "5G promises to create more reliable and responsive mobile Internet connections, enabling the widespread adoption of technologies like virtual and augmented reality in apps and services," said Tempest.
BT expects all customers to be using digital voice services by 2025 at which point the ageing PSTN network will be fully phased out. The potential impact and challenges arising from the post-WLR world and BT's switch to all-IP means that collaboration between the industry, Government and regulators will be 'absolutely key', noted Tempest. "The move to all-IP represents a huge shift for the whole sector," she commented. "The transition is being carefully managed and we're already engaging with industry, Government and Ofcom about our plans to ensure that all parties have sufficient time to plan and understand the implications, the timescales involved, along with the opportunities and benefits to customers." 
Society's intense reliance on mobile connectivity and superfast or ultrafast means the comms sector must continually focus on improving availability, latency and quality, emphasised Tempest. "For BT Wholesale this means an extensive evolution of the current architecture, including moving content and applications closer to the edge and extending quality of service implementations to full network slicing," she explained. "Capacity and coverage challenges, combined with network performance and commercial realities will demand bold, robust and dynamic architectural solutions. We are working through what these will look like with our customers. 
To some extent over time 5G technology may gradually displace Wi-Fi, fixed access and PSTN-based products 
"We also need to explore packet core evolution, Network Function Virtualisation, Cloud RAN and Mobile Edge Computing, as well as mass small cell deployment and a shift to a service-based architecture that can scale on demand. All of this has to be taken into account while coping with legacy infrastructure. Ultimately, our integrated network strategy which is at the heart of the One BT programme will help to underpin Digital Britain, enabling truly seamless digital experiences for customers."
BT has opened a new lab within its R&D headquarters in Adastral Park, Ipswich, to help providers of 'special services' such as those who operate medical alert devices, security systems and fire alarms, to test their equipment with the new generation of BT's digital voice products. Openreach is also consulting industry on its plans for the withdrawal of WLR and associated products. "From a wholesale perspective we'll be working closely with reseller partners to make sure they understand the end-to-end journey and facilitate a smooth transition for their end customers," affirmed Tempest. 
"We'll provide regular roadmap updates over the coming months which will incorporate inputs and requests from the reseller community as far as possible. And we're running a series of all-IP events throughout the year to ensure that resellers are well positioned for the transition and able to seize new opportunities such as adding mobility and convergence offerings to cloud voice. This will see BT provide an omnichannel customer experience that is cohesive and real-time. 
"But to realise Digital Britain we need to create a regulatory environment that promotes network investment and the take-up of new fibre-based technologies, along with regulatory support for the switchover from copper to fibre, with greater flexibility to withdraw legacy products when launching newer, replacement products with richer features."
Among these innovations is 5G which Tempest says will first be felt by mobile, media and broadcast customers as an enabler for 3D video and augmented reality, through to smart cities and self-driving cars. "5G will be key to bringing the IoT to life," she said. "And by 2022 we could potentially see 5G outstrip our main product portfolios for fixed access by some tenfold in capacity and speed. Therefore to some extent over time 5G technology may gradually displace Wi-Fi, fixed access and PSTN-based products consumed today in our channel segments. The development of IoT and integrated networks will create a multitude of as yet unknown requirements from customers."
The development of IoT and integrated networks will create a multitude of as yet unknown requirements from customers
The comms sector should prepare for these challenges by moving to an on-demand commercial and consumption model for infrastructure and IT services which is network technology agnostic, believes Tempest. This requires a change to the tradition of term and volume contracting and ultimately a shift to PAYG. "Annuity-based maintenance and support contracts will decline and as these have been a mainstay for resellers this becomes a challenge, especially where services move to the cloud," she added. "It is also important for all platforms to be API enabled to ensure that the digital journey is end-to-end from consumer or business via the channel into the CPs and infrastructure providers.
"Resellers that have invested in customer facing portals and APIs for supplier integration are the ones who are winning. Acting as the 'Amazon' of the IT services world they understand that their customers demand choice and immediacy when making buying decisions. The ability to price in real-time, place orders, track progress, make service changes and manage faults without picking up the phone is a must. Ultimately, this reduces the cost to serve as well as providing a better customer experience." 
Customer expectations in terms of availability of connectivity have changed beyond recognition over the past few years. The expectation of 24/7 access on any device, anytime, anywhere, not only creates challenges but also opportunities to complete the convergence journey, believes Tempest. "This requires commercial flexibility to reflect customers' expectations of ubiquitous service, a trend already established in the mobile marketplace," she added. "As the ARPU for core connectivity reduces, channel growth will come from cross selling into adjacent portfolios using connectivity as the foundation that underpins the services and applications that customers will be consuming."
It takes Vision to be a leader
Comms Vision (7-9th November, Gleneagles Hotel) is the leading annual leadership forum for CEO, MD and CTO delegates making up the major league of the UK reseller community. Places are limited and by invitation: If you would like to join us this year, please register your interest to attend at www.commsvision.com