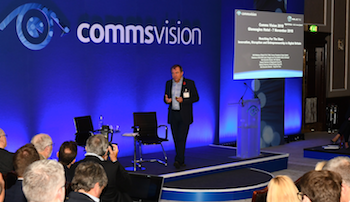 As entrepreneurs such as Sir Richard Branson ride the wave of innovation and disruption, and target industries stuck in reverse, they reveal the full potential of our times.
To say the UK's comms infrastructure has been firmly lodged in reverse mode is an understatement, and as with Branson's space project, for example, the drive for Digital Britain will turn established models on their head and unleash pent up potential.
Disrupting sectors are magnets to entrepreneurs seeking to profit from innovation, but without a watertight business plan innovation and disruption will mean nothing to them despite their general biological predisposition to make a success of things, said space pioneer Will Whitehorn in his Comms Vision keynote.
"Look at the history of innovation and disruption, and why entrepreneurs are so good at thriving in these environments, and you see many have dyslexia or ADHD," he stated.
"As a result they have no particular fear of failure. They are more likely to think the opposite, which is managing risk. 
"If you learn how to manage risk, and that comes down to building good business plans, it's likely that the innovation you undertake will succeed."
As the former President of Virgin Galactic and ex-Virgin Brand Development Director Whitehorn has built a reputation for driving industry disruption. 
His current roles include Deputy Chairman of Stagecoach, Deputy Chairman of Good Energy, Chairman of the Scottish Event Campus and The Scottish Gallery, and he is a board member and Non Executive Director of The Royal Air Force. 
Whitehorn also had a strong hand in disrupting the estate agent sector. Until recently he was on the board of Purplebricks Group, and helped the two founding entrepreneurs to start up in 2011 and launch in 2014.
In his fascinating address to Comms Vision delegates – entitled Innovation, Disruption and Entrepreneurship in Digital Britain – Whitehorn laid down the markers for realising innovation and opportunity through strategic planning as Digital Britain moves from concept to reality.
"Richard Branson took his brand and amazing ideas into new areas, many of which failed, but the ones that succeeded did so in spectacular style," he said. 
"This brand adventure capital model led to the idea of creating business plans to give people greater utility, we then came to a particular industry that hadn't changed for a long time - the space industry.
"If you look at every other sector they've been changed by the methodology of distribution - everything else changes around that - but we'd not seen that distribution change in space."
Whitehorn noted that it's always worthwhile looking back at the early inventive stage of an industry, where the materials technology may not have been there and great ideas were ahead of their time.
According to Whitehorn the X15 showed that a space plane was the best and most cost-effective method of getting to space. In a similar vein, comms entrepreneurs understood the benefits of cloud computing many years ago, but we lacked the infrastructure and methods to make it work. That's no longer the case, and Whitehorn urged delegates to reach for the stars in Digital Britain.
"Innovation doesn't just need to come from those brilliant entrepreneurs with ADHD," added Whitehorn. "Innovation and disruption can emerge from people working on a state owned project even, so long as you apply the presets of a business plan to it."