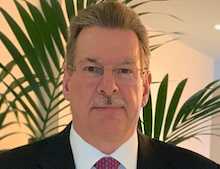 Just weeks after Nextgenaccess appointed former Gamma CEO Bob Falconer as a Non-Exec Director the wholesale full fibre provider has pulled in industry big gun Steven Marshall as Chairman.
He was previously Group EVP of American Tower, a $60bn Fortune 500, NYSE listed telecoms and broadcast infrastructure business. 
His 35 year career also includes executive and public board experience in power and gas transmission and international construction.
"There is a major digital connectivity deficit in the UK which needs addressing urgently to drive underlying economic growth," stated Marshall. "This is recognised by the Government and Ofcom which are encouraging investment in this area.     
"The time is right for Nextgenaccess to scale up operations and leverage its solutions to enable faster and more cost-effective full fibre infrastructure deployment."
Marshall's appointment follows a £22m investment boost for Nextgenaccess from the National Digital Infrastructure Fund (NDIF) to develop its UK 10Gb fibre network. 
NDIF, a commercial fund established in 2017 by Amber Infrastructure Group, has acquired a significant minority shareholding in Nextgenaccess. 
The Amber Infrastructure Group has over £8bn under management with interests in energy, property and transport.
 
Khalid Naqib, Senior Investment Director, Amber Infrastructure, added: "As NextGenAccess enters this exciting new phase I can't think of a better person to chair the business and help chart its growth.  
"Following on from Bob Falconer's appointment to the board, we now have two seasoned industry experts who have operated in some of the world's key telecoms and infrastructure roles, and Nextgenaccess will benefit immeasurably from their judgment, insights and counsel as it builds out the infrastructure needed to deliver a gigabit future for the UK."
 
Marshall is also on the advisory board of Allied Minds and a Senior Executive Advisor to Federated Wireless. He is a member of the Chartered Institute of Building, the Institute of Management and the Institute of Directors.