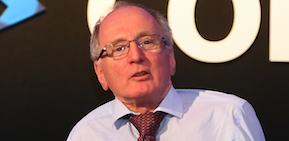 Bob Falconer is back – and helping Amber Infrastructure-backed Nextgenaccess (NGA) map a path towards rapid growth. 
The former CEO of Gamma who retired in May last year has joined NGA as a Non-Exec Director on the back of the firm's £22 million investment boost from the National Digital Infrastructure Fund (NDIF) to back its UK 10Gb fibre network. NDIF, a commercial fund established in 2017 by Amber Infrastructure Group, has acquired a significant minority shareholding in NGA. 
The Amber Infrastructure Group has over £8 billion under management with interests in energy, property and transport. "It clearly feels the environment in the UK is right to invest in fibre assets, and they are not alone in their conclusion," stated Falconer. "FTTP, alongside 5G, is going to be the biggest transformation in the sector for a generation. It will enable services that haven't even been thought of yet – but soon will be."
Falconer is well known in the industry for having a passion for the channel and dedication to partners. He is also a long-term supporter of creating a viable regulatory market for competitors to Openreach to take fibre to the premises. "That market is now in full swing, which is great and NGA are ready to play a role," he commented. "It's an exciting opportunity, I liked the management team, and we all felt that my background could help get the company focused at this stage in its growth. In particular, NGA understands that it needs to work through partners, and I'm well aware from my 15 years at Gamma of the channel's strength."
The reality of the UK market, pointed out Falconer, is that Openreach has fibre to most cabinets as part of its FTTC roll out, but fibre to the end customer sits at a woefully low single figure penetration, well behind other countries. "Now, others have built competitive fibre infrastructure to the major BT exchanges serving large customer concentrations and larger data centres, and investment in residential penetration is ramping up," he said. "But the vast majority of the country still only has one current provider of fibre to cabinet level. The market is there for a faster, quicker, cheaper competitor to Openreach offering an alternative resilient route."
According to Falconer the new PIA regulations (Physical Infrastructure Access to the ducts and poles of Openreach and other providers) transforms the business case and minimises disruption and lead times in providing alternative services. "NGA's plan is not to build an alternative national network, service the residential market nor to overbuild in areas where others already have, but to selectively identify major routes where there is a paucity of alternatives," explained Falconer. "In these environments NGA's expertise in providing fibre services on exiting infrastructure of ducts and poles can be put to work."
Generally, a build will have at least one anchor tenant. NGA then plans to open the route up for businesses through its channel partners in the vicinity using PIA to provide access. "NGA can then provide layer 2 access services to the Internet or appropriate meet-me point," said Falconer. "It's anticipated that the offering will appeal to infrastructure based carriers looking for help in expanding their reach, asset-light operators seeking alternative access routes and to channel partners supplying the business market in the locality. The offering is not a complex one and processes are in place to support the channel. As the business grows further investment in automation is anticipated."
Falconer, who is also a Non-Exec Director at global carrier Epsilon Communications, described NGA's ideal channel partner as being able to sell to medium to large businesses and public sector organisations, and with a reasonable degree of technical and engineering capability to provide the CPE and hook up the services on the back of a layer 2 data facility. "Many partners providing voice and data services today have those skills," he added. "The channel is key to deploying next generation connectivity and building the nation's full fibre future."