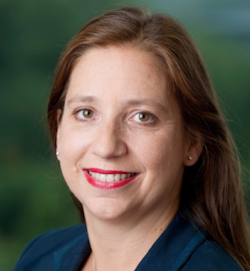 Microsoft UK's Chief Operating Officer Clare Barclay (pictured) is poised to take the CEO role following the appointment of current chief exec Cindy Rose as President of Microsoft's business across Western Europe. Both appointments take effect on 1st October.
Rose succeeds Vahé Torossian who is to lead Microsoft's Business Applications Division at the firm's HQ in Redmond.
Ralph Haupter, President of EMEA at Microsoft, said: "Cindy's appointment is down to her success in leading the UK over the last four years. That was built on her laser focus and building an inclusive and healthy culture."
Barclay has worked at Microsoft for 22 years across a number of sales, marketing and leadership roles. 
Prior to being COO she led the company's work with SMEs and the company's network of 25,000 UK partner organisations in what Haupter describes as one of the most cloud-forward regions. 
"Clare brings deep insight to our customers' and partners' needs as well as exceptional leadership qualities, having repeatedly built high-performing teams across Microsoft," he added.
Barclay said: "This year has not only challenged us, it has also shown how technology can help us all thrive and adapt."