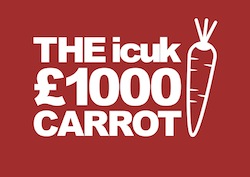 A new incentive scheme introduced by wholesaler ICUK gives partners cashback for customers adding new FTTC 80/20 tails to their base via a migration or a new installation. 
Called the 'ICUK £1,000 carrot' offer the scheme is expected to help smaller resellers grow via the connectivity provider's platform.
The move builds on the current offer of free PSTN and broadband installation as standard; which has been extended during May and June with the promise of £250 cashback for 10 new connections, £500 for 15 new connections and £1,000 for 25 new connections. 
"Further incentives are available for larger bases," stated Neil Barnett, Head of Business Development. 
"Following the popularity of our free PSTN and broadband activation offer over the past three years we're now offering a cashback incentive for new and existing resellers, whether small and large, to help grow their bases."