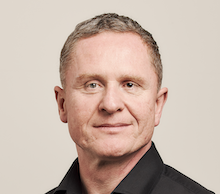 Masergy: A channel business transformed by PE-led acquisition, investment and a leadership restructure that includes the instatement of entrepreneur cum channel builder Steve Harrington as MD EMEA.
The move is perhaps the company's most significant channel-focused appointment to date as he seeks to double revenues post haste mainly through partnerships.
The appointment of Harrington in January this year was an astute move by Masergy, and a key step in a restructure which began in 2016 when the Texas-based company was acquired by US private equity firm Berkshire Partners for close to $1 billion. Harrington was previously Masergy's Director of Channel EMEA, having joined the business in March 2018. The subsequent appointment of CEO James Parker (who previously held leadership positions at Microsoft, CenturyLink and Tata Communications) six months later signalled the start of a channel programme expansion campaign across EMEA and new investments in product engineering, sales and marketing. "Although we were already a global organisation, Berkshire's investment helped to scale our business," stated Harrington. "We are hiring a significant amount of talent across all levels of the company."
New arrivals include a Chief Revenue Officer in February, a Chief Human Resources Officer and former TalkTalk Business International Carriers Account Manager Emily Nerland as Channel Director EMEA in May. The appointments are an important component of Masergy's plan to double enterprise revenue during the coming three to five years, mainly through joint sales with channel partners. As a kick-off play Masergy has embarked on a strategy to raise brand awareness among enterprise customers and channel partners around its three core solutions – managed SD-WAN, managed security and cloud communications.
Masergy is investing especially in resources and personnel through its global channel programme. "My job is to scale our growth in EMEA while sustaining the personalised experience for our customers and partners," stated Harrington. "The biggest opportunity is in selling managed SD-WAN into the enterprise. We see a lot of turnover in multi-cloud enterprises when their unmanaged SD-WAN doesn't work as well as the pilot because it can't scale or becomes too costly. That's why we made our Managed SD-WAN a turnkey service."
Masergy was founded in October 2000 as a managed network services provider, but it soon began to show itself as a pioneer in software defined networking and now delivers managed SD-WAN, cloud communications and managed security solutions to global enterprises. Following a number of acquisitions, the first in 2012, Masergy added into the mix cloud-based unified communications as a service (UCaaS) and managed security with detection and response solutions.
"Masergy built a managed global network that was software defined before the term was common parlance in the industry," stated Harrington. "We developed our global software defined network to be a platform to deliver other managed enterprise services such as UCaaS and our cloud contact centre solutions powered by Cisco. In the past few months we integrated key security features directly into our managed SD-WAN solutions."
We are focused on elevating our brand awareness in the market. We have a fantastic story to tell and want the channel to hear it
Harrington cited a Gartner survey in which two thirds of organisations indicated a clear preference for managed SD-WAN solutions versus buying unmanaged edge devices for their corporate network. "We've seen interest in SD-WAN across the board from both partners and end customers," added Harrington. "It makes sense as more business apps and IT functions migrate to the cloud and more enterprises operate in multi-cloud environments. As always, security is top of mind for all buyers. Thanks to the GDPR, data security and privacy is an area of major concern for every organisation."
Masergy's managed SD-WAN solution includes integrated next generation firewalls with Unified Threat Management; and enterprises can readily bundle in advanced security with Managed Detection and Response (MDR) services with 24/7 security monitoring. "We have plans to add more AI features and true zero-trust security for our managed SD-WAN solutions to simplify management of customer security," added Harrington. "The momentum is there for Masergy and our partners to deliver a secure managed SD-WAN solution that facilitates the CIO's IT initiatives while keeping the CISO happy."
IDG stats show that almost 70 per cent of enterprises are either actively researching and piloting SD-WAN or already have some form of SD-WAN on their corporate networks. But the opportunity does not end there. Harrington noted that there is a wide scope for partners to upsell a managed SD-WAN solution to UC and managed security. "In these cases we engage with our partners to build customised bundles," he added. "It's easy for partners to not only sell the value of Masergy Managed SD-WAN to their customers but also gain a steady revenue stream for a long time off those customers."
Masergy's global partner programme is designed to work with different business models, including VARs, master and sub-agents, system integrators, solution providers and consultants. In addition to managed SD-WAN the programme allows partners to leverage Masergy's skills in servicing global customers with solutions such as UCaaS, intelligent SIP trunking, cloud contact centre and managed security with detection and response solutions. "We provide our global partners with a monthly residual compensation structure along with certified product training, joint business plan mapping, market development funds, and pre and post-sales support," explained Harrington.
He is deploying channel strategies in a space well known to him since 1994 when he first entered the networking and communications sector. Previously in his career Harrington built companies from the ground up and completed three successful exits. "Understanding market trends, customer challenges and the channel ecosystem is a huge advantage," he added. "Starting my own companies and building businesses with others keeps you down to earth and helps you to grow personally from lessons learnt along the way. For example, I would have been less cautious and learnt to embrace market trends faster. That is what excites me about Masergy – we are always thinking about what's next and how we can innovate faster."
Harrington is as sensitive to the positive influence of his past experience as Masergy is at being attuned to the future direction of the market. "My understanding of the enterprise networking, comms and security markets coupled with my experience working with enterprise customers as well as channel partners gives me an advantage in scaling our business in the EMEA region as we execute on our channel-first strategy," he said. "My current priority is to complete the build out of our team while maintaining our culture and 99 per cent customer retention rate. We are also focused on elevating our brand awareness in the market. We have a fantastic story to tell and want the channel to hear it."