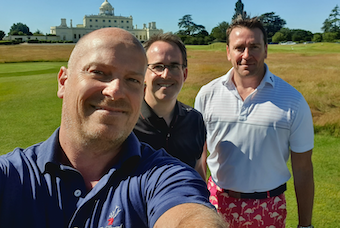 Digital Wholesale Solutions (DWS) swung into 'creative' partner engagement mode when the Government lifted lockdown restrictions on golf courses across the nation. 
The company staged a cross-nation socially distanced event, called Big Tee for Two, where DWS representatives linked up with partners at top level courses, playing in groups of two, three or four.
"For a company based on strong partner relationships Covid-19 has made things difficult for us, forcing us to reconsider our approach to partner engagement – but there was never any doubt that we would find a safe way around it," said DWS Sales Director Garry Growns. 
"When the Government gave golfers the green light we decided to run with it, adapting our events approach to work within the guidelines."
Partners also received hampers with beverages and snacks for a virtual pub night with other golfers, dubbed the Big Night Inn and opened by 'landlord Garry' via Teams. Awards were handed to John Forde, founder of Airphone Telecom Solutions and Jon Dunn, Sales Director at Mint Telecom who picked up a Tiger Woods of the Channel gong.
Other prizes included the Better Luck Next Time award, the Tez's Threadies award presented by CEO Terry O'Brien to the snazziest dresser, and the Snap Happy gong going to the golfer who took the most photos and videos.
"Following the success of last year's Oktoberfest we were planning to hold a DWS SummerFest in July," added Growns. "Of course, Covid-19 had other ideas and, like many other businesses across the globe, we were forced to put our plans on hold.
"But a worldwide pandemic can't stop us from celebrating our partners, which is why we decided to do things a little differently.
"For those who couldn't attend or perhaps are not interested in golf, we continue to work on new ways to engage and are already coming up with ideas for our next event."
Pictured above: DWS CEO Terry O'Brien  at Stoke Park golf course with Edge Telecom owner Stephen Finnegan and Simon Wort, Chief Commercial Officer at Arrow Communications.
Pictured below: DWS CTO Nathan Marke with partner Jon Hebbes, Business Development Manager at First Class Comms (FCC), and FCC end customer Mark Williams .