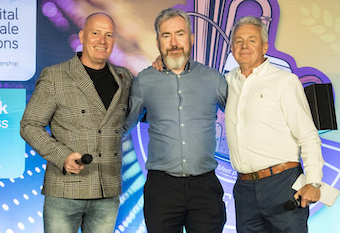 There was a mega toast to international networking giant Transaction Network Services when the company was presented with DWS's 'Power in Partnership' award at the inaugural DWSfest held at the Pergola Paddington in London.
Sponsored by TalkTalk Business, BT Wholesale, Virgin Media Business, O2, Nokia, Firstwave Cloud, Epsilon and CAT Phones, the Bavarian-themed event brought together some of the best in the channel to celebrate power in partnership.
Run in true 'Octoberfest' style, with German beer and food served between performances by a traditional Oompah band, the event attracted 300 DWS partners who were rewarded for their work with voice, connectivity, mobile, IP technology and mobile hardware. Special awards also went to Reseller Partner, Network Mobile Partner and International Carrier Partner of the Year.
"We're delighted to be recognised by DWS as one of their most valued partners," said Ciaran Jones, Vice President of EU Operations at TNS. "Our long-standing relationship is a testament to the key strengths which both of our organisations bring to the table and that enable us to offer a superior service to our customers."
DWS Managing Director Terry O'Brien was delighted by guest feedback at the event: "No one else in the channel is holding events like this so it was something new that I was really excited about. It gave our team a fantastic opportunity to get to know the people behind the partners, strengthening relationships and maintaining that all-important human touch that DWS is so passionate about."
Picture shows Ciaran Jones of Transaction Network Services receiving the Power in Partnership Award from Terry O'Brien (left) and Garry Growns of DWS.