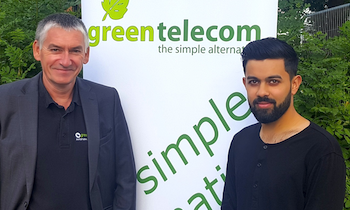 Green Telecom Managing Director Steve Hayden and the Institute of Telecommunications Professionals (ITP) have called on the communications industry to prioritise the employment of young apprentices as a matter of organisational policy. Here's why...
Just talking about the skills gap in telecoms doesn't get the job done. What we really need to do is take action and inspire apprentices with the wonders of our vibrant sector, and work hand in hand with the ITP to champion bright young people and help them lay the foundation of a successful career in IT and telecoms, according to Hayden. He has called for the employment of apprentices to become compulsory, with a minimum ratio of one apprentice per ten employees. "Apprenticeships are a great opportunity to take someone into your business and train them in your ways and systems," he commented. "And they help to fill the skills gap. Qualified engineers are hard to come by in telecoms."
Green Telecom was established in 1989 by Hayden as an installer of telephone systems for other telcos. The company became a reseller in 1995 and currently employs 12 staff with a turnover of almost £2 million. Green Telecom is based in Chesham and owns its offices, and has come a long way from the double garage in Ruislip where Hayden started the business. "We believe in honesty, value and a professional but happy work environment which includes apprentices," added Hayden. "We have been involved with the ITP apprenticeship scheme since the outset and our main engineer, Aneel Ahmed (pictured right with Steve Hayden), came through the first cohort."
Hayden himself started out as an apprentice engineer with BT when he left school in 1981. He believes that the number of apprentices employed by a business is a sound indicator of its practical approach to strengthening and growing from within. Moreover, apprentices like Aneel make their career decisions according to what they find relevant to their future lives, which means they have a long-term vested interest in their employer. "My first apprentice role at Green Telecom was as a Junior Telecoms Engineer," said Aneel. "I started off by learning the basics of telecoms such as the use of Cat 5 cable and how to terminate these at a customer site, and then moved on to system installations and programming."
The ITP's role was to help Aneel settle in at Green Telecom and Coventry City College where he studied. The ITP also provided a mentor for Aneel to contact should he need help with the NVQ and its associated assignments. His role as Apprentice Telecoms Engineer lasted 18 months, the time it took for him to complete a Level 3 Diploma. "Once I had achieved my qualification I had a review meeting with Steve Hayden to discuss my future role and career ambitions," commented Aneel. "Because I was qualified my job role changed to Telecoms Engineer.
"My work colleagues were supportive with my apprenticeship assignments and NVQ, and I was given all the help I needed. I was also assigned a mentor within the workplace so I had someone to discuss, plan and complete my apprenticeship NVQ. Although studying and working together was challenging, it helped to develop my skills as I was able to put the theory I was studying into practice almost straight away."
Aneel is now a Senior Engineer and has trained as a multi-skilled employee, enabling him to help in the IT and customer service departments when required. "The apprenticeship scheme not only enabled me to develop technical skills in IT and telecoms, it also helped me to develop key employability skills such as communication, presentation and time management," he explained.
Aneel is currently studying through The Open University to achieve a foundation degree in Networking. "Once I have achieved this I aim to sit the Cisco CCNA exam and in the future look at completing other Cisco certifications," he said. "I will keep my options open for future qualifications and certifications as I think it's important to carry on learning and developing skills to keep up with future technologies in this industry."
Apprentices are more likely to be loyal to a company that has given them an opportunity to gain qualifications and practical experience in the workplace. "I would recommend all businesses to consider employing an apprentice" commented Aneel. "It provides a fantastic opportunity to train a young, willing individual and develop them into the type of employee the company requires. The apprentice can be trained in areas of the business where there is a lack of skilled employees, leading to more productivity and the freeing up of staff time to undertake other responsibilities."
Aneel's success during his apprenticeship was rewarded with an Apprentice of The Year award at the Annual ITP awards evening. "Aneel's story is a fantastic example of the power of apprenticeships and highlights the benefits apprentices bring to any business, large or small," commented Crissi Williams, CEO of the ITP. "It's a win-win situation for both the apprentice and employer, and is almost always a great learning experience for both. Green Telecom has paved the way in terms of employing and developing its apprentices, and we hope this will encourage other businesses to get on board. Even if they only employ one apprentice per year, it can have a huge impact on the bottom line."•