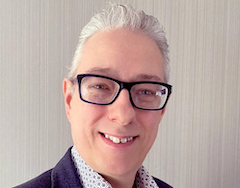 Partnering is a critical aspect of the ICT sector - and getting it right creates a potent force. Now, more than ever, we're trying to create a real accumulation of powers where the alchemic outcome is greater than the sum of the parts. Why? Because times have changed. In a world where fewer people will be working from shiny towers and metro locations, the industry needs to adapt. We need to weave fabrics of carriers, data centre operators, cloud service providers, ISPs, software developers and fulfilment providers to co-create and co-sell the future.
There's real value to be had in working hand-in-hand and uniting around customer needs and meeting the challenges and opportunities of a world where remote and home working have become common. 
We know that work has moved from a place to go to a thing to do. So how do we best address that?
The impact on technology of the pandemic has been to accelerate the rise of the three Cs – cloud, collaboration and conferencing – as we all need to continue working together and with potential for minimal helpdesk support. 
Working as one, we want to help connect people to the cloud and conferencing/collaboration systems faster than ever and build for a future where pixelated Zoom and Teams screens are not acceptable and where 8k video is common. 
We want to offer services where we can instantiate a bandwidth-on-demand connection within minutes to meet demand for scalability and pay-as-you-go tariffs that accurately reflect consumption and value.  
This is about building out the cloud and helping cloud providers to modernise applications so that enterprises can take advantage of apps that are accessible from anywhere. 
But more than anything, it's never been more important to listen to what customers tell us they need. For example, we all know that it's a challenge for businesses to give staff high-performance home connectivity and security. Maybe this group effort will see us working with ISPs to help create safe, performant home networks. 
Or, if the preferred working model becomes WeWork and serviced offices, kitting them out with SD-WAN links could potentially be a good fit. 
Ultimately, in today's complex and interconnected world, no one organisation can do everything end-to-end. We know what we can bring to partnerships. These are early post-pandemic days, but with agility, resource-efficiency and partners working together we can build upon being the glue that kept us all together personally and professionally over the last 15 months. 
If we all work to master these partnerships, then we'll see that among our customers, good news travels fast - like transmission over fibre.