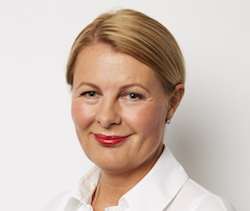 BT Wholesale Managing Director Alex Tempest brings a fresh perspective to remodelling the division's future planning and direction.
Digital Britain is up for a land grab and only proper planning will ensure future success. So in April this year BT Group created a new customer-facing unit called Enterprise, bringing together the previously separate Business and Public Sector and Wholesale and Ventures divisions. Enterprise will start reporting its financial results as a single unit from 1st October 2018. "My first priority is integrating the Wholesale part of the business into the newly created unit, working closely with Gerry McQuade, CEO of Enterprise for BT, and his leadership team," explained Tempest. "As part of that integration the new Enterprise strategy will be defined, including the Wholesale components. We hope to reveal more details about that later in the year."
Also high on Tempest's to-do list is product portfolio development as she seeks to take advantage of new market opportunities created by the shift to all-IP, cloud communications, IoT, all-fibre networks and 5G. "With the traditional connectivity market flat, and with declining revenues and margins, it's imperative that we and the rest of the market transition away from older technologies which are becoming obsolete – and embrace the new," stated Tempest. "Perhaps the biggest challenges associated with these major technology shifts are around driving awareness and demand. This is where our channel partners, with their proximity to end customers and deep insight into the understanding of their business, have a critical role to play."
Improving the customer experience is also a big focus for Wholesale over the next year, as BT evolves its sales channel by investing in people, processes and systems. We're making strides and I'm determined to maintain the upward trajectory," stated Tempest. "For example, we've introduced a new user friendly online Ethernet order journey to make things simpler for customers. It's proving popular and now 99 per cent of our Ethernet orders are coming through the new Business Zone online platform."
Wholesale and Ventures provides fixed network services to around 2,600 wholesale and channel partners – including Sky, TalkTalk, Telefonica O2 and Virgin Media, plus overseas communications providers operating in the UK. The division reported £2 billion in revenues, an operating profit of £443 million and an EBITDA of £754 million in its later financial year. "As part of the new Enterprise business we expect revenue growth over the coming years to be driven mainly by hosted communications, professional services, new deals, broadband and Ethernet," added Tempest.
"Our Wholesale business will continue to evolve with its integration into the wider Enterprise unit. Much of this will be driven by the new strategic direction for Enterprise which is yet to be announced. However, we can expect this to align closely with the wider BT Group strategy which is focused on delivering a differentiated customer experience, investing in integrated network leadership and transforming BT's operating model."
Tempest noted that the biggest factor influencing the Wholesale business in terms of market and portfolio development is the continuing decline of legacy products such as traditional fixed voice and partial private circuits. "These older technologies will soon become obsolete so our focus now has to be on newer all-IP based alternatives that deliver richer features and better price points for end customers, and educating and informing our customer base about the benefits of making the leap sooner rather than later," she commented. 
A new tech area that's front of mind for BT right now is the IoT, pointed out Tempest. She noted that BT has created a new IoT Centre of Excellence within Wholesale and Ventures which serves the wider BT Group. "We've been working hard to develop our IoT propositions including intelligent assets, retail and automotive, and we've also developed a BT IoT platform to maximise customer choice," she explained. "We believe these IoT solutions build on our reach across fixed and mobile networks, and we're already working through an internal IoT transformation programme which will deliver benefits in terms of cost savings and learning to take propositions to market. Our initial focus areas are supply chain management, buildings and our fleet business."
Aside from a clear view of the future role of the IoT in BT's long-term strategic direction, Tempest's sights are also set on rising demand for bandwidth and superfast connectivity, particularly fibre broadband, which now makes up around 33 per cent of BT's total wholesale broadband market base. "However, with superfast fibre availability standing at 95 per cent in the UK there is still much that both we and the rest of the market, including resellers, can do to encourage businesses and consumers to upgrade from copper to fibre," commented Tempest. "Much of this will be driven by price of course. We're seeing increasing price competition in the market for broadband and CPs will need to focus on value bundles and an improved customer experience as differentiators. 
"Furthermore, with our infrastructure partner Openreach continuing to invest in the UK's digital infrastructure through its Fibre First programme, the move to ultrafast, all-fibre networks will become all important over the coming years. That's another shift that we'll be helping our customers prepare for as demand for greater bandwidth continues to accelerate."
Providing an undoubted boost to bandwidth demand will be the emergence of ultrafast 5G networks. "5G represents a huge opportunity for fixed and mobile operators, and as a wholesaler we'll be focused on building the high speed Ethernet infrastructure required to support 5G," added Tempest. "Through our EE mobile network we also help MVNOs to offer their own brand mobile products and services. Today, our MVNO business supports more than 3.7 million customers."
According to Tempest the industry must be laser-focused on the shift to all-IP over the coming years as BT prepares to migrate customers from PSTN-based products and services to digital IP infrastructure by 2025. "This needs precision planning in terms of portfolio development, product withdrawals and consultation with customers, partners, suppliers and the regulator," she said.
 
Tempest joined BT in December 2017 as Managing Director of Fixed, Wholesale and MVNO Sales, moving from TalkTalk Business where she was Director of Partners. She became Managing Director of Wholesale, BT Enterprise in May this year following the formation of the Enterprise business unit. "The role represented an opportunity to shape the business to become one of the most customer centric, agile and disruptive players in the market," she said. "And with BT's acquisition of EE you could see the positive impact of the brands coming together and the resulting culture that flowed through the new organisation. 
"I bring an external perspective which I believe is critically important, along with my insatiable curiosity. Ultimately, I want to ensure that we are strategic, forward thinking and nimble enough to change course, and that we build integrative relationships with our business partners."
Just a minute with Alex Tempest
Role models: 
My parents: It has never occurred to me that I couldn't do something. Empowerment is a sign of great role models
 
Your biggest career achievement? 
Seeing all of the people I've developed, coached and mentored go on to fulfil their potential
Your greatest fear? 
The inability to do something
If you weren't in comms what would you be doing? 
Futurology
One example of something you have overcome: 
Being female in the tech world I always felt the need to over-achieve to 'prove' myself. You soon learn that this is a bar you, and not others, are setting for yourself
Tell us something about yourself we don't know? 
I trained to be an Olympic pentathlete
The biggest risk you have taken? 
Giving up on my Olympic dream to work when I realised I couldn't do both at the same time, brilliantly
Name three ideal dinner guests: 
Einstein for his scientific genius; Da Vinci for his ethos of interdisciplinarity; and Ada Lovelace for her brilliance in exploring the potential of algorithms in the 1800s
Lesson learnt: 
No matter how much fun you're having or how amazing your colleagues are, there is always a right time to move and develop your career. That time is usually much sooner than you think
How do you relax? 
Sports like kick boxing or hot yoga, spending time with my husband, friends and a fab bottle of wine