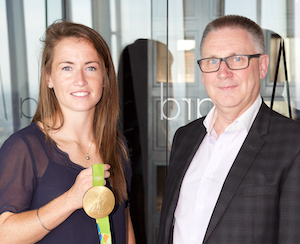 Maddie Hinch is the undisputed Number One women's hockey goalkeeper on the planet and having her on board 9 Group's brand development team alongside four other sporting greats perfectly aligns the company with winners, according to Marketing Director Mark Saunders.
It was in 2017 that 9 Group launched its Free to Perform brand ethos, and according to Saunders it's important to continually articulate and explain the concept of brand ambassadors to partners. "At its core, the proposition means 'we do our job, so you can do yours'," he commented. "By aligning our brand with elite athletes, who generally have people around them to carry out their 'back office' tasks so they can concentrate on winning, we could bring the Free to Perform message to life.
"There is also a clear benefit in creating an association between our inherent brand values and people who are successful, inspirational and personable in equal measure. Given the long-established link between the requirements for success in sport and business, expanding our portfolio of sporting brand ambassadors seemed a logical next step for us."
9 Group now has five sports people in its armoury, Maddie Hinch, Porsche Mobil 1 Supercup Championship driver Josh Webster, wheelchair tennis gold medal winner Gordon Reid and British Olympic artistic gymnasts Becky and Ellie Downie. Saunders initially worked with a marketing agency to establish a long list of 12 potential brand ambassadors, who melded into 9's criteria.
"We looked at what would work within our budget and which individuals provided the more inspirational stories that would work well with the 9 brands," he said.
"We also wanted to work with sports stars who were already champions and likely to feature in the 2020 Tokyo Olympics, to enhance the profile they could provide. There was an opportunity to possibly work with a single household name and invest all our budget behind them, but the ambassadors that we finally selected held a stronger resonance with our Free to Perform message and I believe they are more relatable than some of the A list sports people.
Make sure that your brand ambassador will enhance your brand and profile, never detract from it
"Gymnastics, hockey and wheelchair tennis may not command the airtime of football, rugby and cricket, but they have incredible participation rates in the UK and in Maddie's case, a back story that gripped the entire nation at the Rio Olympics in 2016."
As well as featuring regularly in 9's trade advertising, on the company's website and in its social feeds, Hinch made her industry speaking debut at last year's Comms National Awards and received a standing ovation after her introduction keynote. "Any awards night is a boisterous environment, but Maddie was able to captivate the guests with her story of England's penalty shoot-out victory at the Rio Olympics and how our Free to Perform ethos resonates with an elite level athlete," added Sanders.
"By way of contrast, she also spoke at a small round table event, attended by around 20 of our partners, held at The Shard earlier in 2018. Maddie spoke to everyone about her background and the long slog to her eventual success, with a good many references to Free to Perform. Everyone then enjoyed a most convivial lunch and welcomed the opportunity to pose for selfies alongside Maddie and her gold medal."
Hinch has agreed to work with 9 until January 2021 and carries out two or three engagements each year, as well as supporting the business on social media and by sharing website content. Saunders is unconcerned about the length of the deal, even if she gets injured or dropped from the England or Great Britain team.
"Sporting ambassador contracts always contain 'what if' clauses, but the personal qualities which first inspired 9 to work with Maddie will remain, even if she is unfortunately injured or out of form," said Saunders. "When Maddie decided to take a break from international competition to focus on her club career in Holland, we fully supported her, while equally looking forward to her hopeful return to the international stage later this year."
The 65,000 dollar question for Saunders has to be – how does he connect an international hockey goalkeeper with selling ICT solutions? "The skill, desire and dedication required to be a gold medal Olympian are all the same qualities that you need to succeed in sales," he explained. "Succeeding in the ICT market is a competitive business, so is being an international hockey goalkeeper. The parallels are clear to see and people like to associate themselves with winners, especially inspirational ones."
Choose an emerging sports person or athlete and back them to win in the future
So, is it a wise idea for partners to employ a brand ambassador? "Why not? But only if it is part of a marketing strategy and reinforces the values of your company," noted Saunders. "I would recommend avoiding any ego led decisions, or assumptions that you may just get some free tickets. Activating the relationship needs a careful plan and considerable investment, so this is not a decision to be taken lightly, but it can yield positive results.
"I would advise choosing an emerging sports person or athlete and back them to win in the future. Their progress, and even their setbacks can create engaging content for you. Alignment is the key. Make sure that your brand ambassador will enhance your brand and profile, never detract from it. Be prepared to work hard to maximise your return on investment, and make someone accountable for delivery."
(Pictured above: Maddie Hinch and Mark Saunders)
Just a minute with Maddie Hinch...
Role model:
Kate Richardson-Walsh OBE – the GB and England captain for 13 years and the most capped female hockey player in the UK's history. A truly inspirational leader
Your biggest achievement?
Winning Olympic Gold in 2016
Did you ever imagine you'd be a world No1?
As a teenager I remember saying, 'one day I want to the best in world', but I never believed it would happen
Best piece of advice you have been given?
If you don't believe in yourself, who will?
The key to your success?
Dealing with setbacks. When I was knocked back it made me more determined to achieve
Who has inspired you most?
Serena Williams. Despite her many accolades, her journey to the top was difficult which inspires me to stay strong during hard times
How do you perform to your best?
Train hard and often, and consistently push myself out of my comfort zone mentally and physically both on and off the pitch
Your winning recipe?
Hard work, grit and determination
What's the difference between a good and a great goalkeeper?
Mindset! A mistake can change the game, so it's about the ability to handle this mentally and relish rather than fear the challenge
How would you like to be remembered?
As one of the greatest hockey goalkeepers of all time