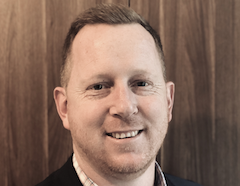 The story of 8x8's channel and market expansion reads like a textbook on the effectiveness of right-fit business partnerships, according to EMEA Director of Channel Sales Keith Jackson.
When Jackson joined 8x8 in August last year, moving from RingCentral, he pledged to take the partner business programme 'to the next level'. True to his word, in February 8x8's UK channel presence received a rocket boost with the addition of IT sector giants Computacenter and Softcat to its partner programme, building on new partnerships with key players Charterhouse and NSL.
These important partnerships signal a ramping up of 8x8's efforts to move installed customer bases to cloud-based voice, video and sharing for meetings, contact centres and applications. And the channel will be well equipped to take these migration markets by storm so long as resellers do not neglect the strategic advantages offered by cloud-based technology, believes Jackson.
"The channel is expanding and growing beyond recognition," he commented. "The UCaaS market is experiencing massive growth and innovation and we're seeing a shift from on-premise PBX to an all-encompassing single cloud communications platform. Customers no longer want the burden of multiple contracts with numerous providers. Instead, they're now in need for a single, unified cloud communications partner that can adapt to their needs and wants quickly."
The UCaaS market is experiencing massive growth and innovation
Jackson has more than 17 years experience in channel sales, but studied aviation after leaving university and is a qualified commercial pilot who first landed in a telecoms business in Johannesburg where he designed a point-to-point microwave link connecting two buildings. Thus Jackson began a long and distinguished career in the comms sector. Prior to his time at RingCentral he spent over 10 years working with other vendors including Unify, Gigaset and HP/Ingram Micro.
"I've dedicated my working life to the channel," he stated. "Over the years I've worked with some talented individuals, including Jonathan Beatson, with whom I've now worked at four different companies, and our Global Channel Chief John De Lozier. Through working alongside these great people I have learnt the trade, how to build successful channel programmes and maximise business opportunities through them."
8x8's channel has grown globally by 62 per cent year-on-year and Jackson's big opportunity is to build further on this expansion and support his team to accelerate business growth; and a key priority in this is to grow the channel programme by leveraging existing partnerships and sourcing, then aligning with, new vendors. "We take a holistic approach to our partner relationships, creating an integrated channel programme that goes beyond sales generation and feeds into our joint business strategy," stated Jackson.
Much of 8x8's strategising focuses on simplifying processes through technology. "I hear a lot of talk around the need to streamline experiences and how tech can enable this," added Jackson. "This is driven by the need to reach different generations, from Gen Z to baby boomers, who are digital natives and expect all interactions and engagements to have technology laced through them. They're looking for a frictionless experience. Add to that all the channels that are now available to communicate through and we see that the customer is driving the entire business engagement model."
Jackson also predicts that Communication Platform as a Service (CPaaS) will disrupt the IT market in years to come. "Customers are now demanding a much higher quality of customer service and this is creating a need for more advanced platforms and sophisticated ways of interaction with them," he explained. "CPaaS is also set to elevate the customer experience and service offered across many business sectors with the likes of SMS and video APIs being highly sought after."
Just a minute with Keith Jackson...
Role model:
Nelson Mandela, he's a legend
What talent do you wish you had?
To predict the future, especially towards the end of the quarter!
Tell us something about yourself we don't know:
I'm a qualified commercial pilot
What do you fear most?
Praying mantises. I'd rather face a crocodile
One example of something you've overcome:
Ordering pizza on the phone in a South African accent
If you weren't in ICT what would you be doing?
Working as a pilot – anything that involves adrenaline. I love racing cars and bikes
Best piece of advice you have been given:
Be kind to people
The biggest risk you have taken?
Immigrating to the UK. I went from the market I knew well to a place I didn't know at all. But it's paid off
Name three ideal dinner guests:
Elon Musk, Barak Obama and Nelson Mandela
Your biggest career achievement:
Building successful teams
Lessons learnt:
Bad news never gets better with time, so I've learnt to deal with the problem right away
Tip tip for resellers:
Don't fear new technology. Embrace it and be the change