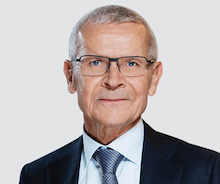 Distributors Nimans, Corptel, Ingram Micro, Westcon and CMS in Ireland have been lined up to sell Jabra's new PanaCast intelligent video solution for 'huddle' rooms into the channel.
Jabra claims the solution is the world's first smart 4K Plug-and-Play video solution offering 180-degree panoramic vision, ensuring everyone in the room is seen.
Jabra PanaCast's built-in people detection technologies will provide the possibility of system-wide business intelligence by capturing accurate usage and occupancy information. As AV and IT become more and more integrated, the need for accurate data and metrics increases. The upcoming Jabra PanaCast API will enable developers and partners to query the system for real-time information, such as people count data.
The solution is said to be compatible with popular cloud-based solutions including Microsoft Teams, Skype, Zoom, Cisco WebEx, Slack, Google Hangouts, GoToMeeting, Unify Circuit, BlueJeans and more, so people can plug-and-play in seconds with their existing collaboration services by simply plugging the device into the computer USB port.
The advanced AI utilizes a Convolutional Neural Network (CNN) to count the number of people in the field of view, up to 12m away, and provide numeric data which organisations can use to inform decisions on calendar management, room utilisation and resource management, or to automate facility assets' power management, such as TV monitors, lights, videoconferencing equipment and more. The technology will be available through the Jabra PanaCast API built for the Windows operating system and can be used for large areas like classrooms, auditoriums and general gatherings.
René Svendsen-Tune (pictured) CEO at Jabra said: "We have always valued the importance of sound and personal interaction in every product within our Jabra portfolio. The introduction of Jabra PanaCast shows our commitment to enable businesses to achieve optimal collaboration and productivity through both sound and video technology. Now is the time to bring remote workers and huddle room participants closer together through the addition of high-quality plug-and-play video to customer's huddle rooms."
The qualification criteria for other UK partners to participate in selling Panacast will be available for resellers to apply for from 1st July, 2019.