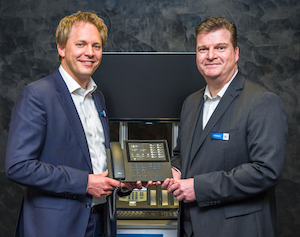 German phone system maker Auerswald's UK channel building campaign – advancing under the international FONtevo brand and underpinned by its link-up with distributor SOS – stepped up a gear this week when the vendor's COO and International Business Director, Axel Kloessner, set out plans to gain a big slice of the SME market from under the noses of established vendors.
FONtevo works with circa 16,000 resellers in Europe and despite its size and influence has retained what Kloessner says are 'family values', which he hopes will have the same positive impact on partner recruitment in the UK. 
 
Speaking at the company's UK 'Accelerate your SME business' FONtevo partner day held at Mercedes Benz World in Surrey, Kloessner said: "We are established, successful, and have a passion to succeed in the UK by working with partners who share our vision."
Kloessner believes that FONtevo's particular blend of service and support in tandem with added value provided by SoS will enable resellers to give customers alternative VoIP solutions with a seamless upgrade to the cloud. 
SOS MD Colin Hepher added: "Having visited FONtevo's manufacturing base, met its people and witnessed its processes, I am convinced resellers will benefit from a relationship. 
"There are two million SMEs that need to transition from ISDN to VoIP before it's switched off, and FONtevo have the pedigree, solutions and back-up service they need."
 
Pictured above: Kloessner and Auerswald CEO Christian Auerswald holding FONtevo's new D-Series phone, which they say brings enterprise features to SME deployments.