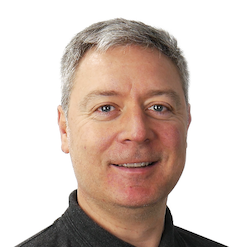 The fruition of Fanvil UK's channel building strategy would see it become the number one provider of VoIP endpoints, according to MD Craig Graham who has already made expansive inroads across swathes of home territory.
There is no doubt that Fanvil UK is stealing a march in the market for VoIP phones, its speed of growth testament to the man at the centre of an ambitious UK channel building campaign. According to Graham, product quality is indivisible from channel success, and with the right support is enough to make big strides in short time across target territory. In just two years he has rallied 1,000 resellers to the Fanvil flag and signed agreements with four distributors – ProVu, Yellowgrid, Corptel and Nuvola – with other significant channel partnership agreements in the making. "Many of the well known ITSPs and carriers are at various stages of interop testing which promises to make 2020 a big year for Fanvil," stated Graham.
The Chinese VoIP desktop phone developer and manufacturer is now one of the primary VoIP phone brands in the world. It produces devices for small and medium sized businesses, as well as large mission critical enterprise environments, and is set to become a global IP voice and video terminal manufacturer. The company also produces door access and intercom devices.
Although Fanvil has been an established brand in China for almost two decades it was relatively unknown in the UK until 2017. "Fanvil UK was founded on a simple strategy," explained Graham. "VoIP resellers and installers look for products that are technically stable and robust and hold customer appeal, with good pre and post sales support, offering strong margins. So we set about a strategy of education. We put a Fanvil phone in the hands of resellers and supported them through initial set up and testing. We expect to continue doubling the number of UK resellers year-on-year."
We are looking to further disrupt the market and continue to gain market share
The continuing industry transition from a traditional capex model to an opex one has increased pressure to source hardware that offers a short-term RoI when building a monthly subscription based model, observed Graham, who claims that Fanvil's status as a privately owned company, free from investor demands for dividends, means it is well placed to reach price points that catch the eye of resellers.
"We are looking to further disrupt the market and continue to gain share," stated Graham. "The UK VoIP market is maturing, alive and well, attracting many PBX vendors, and Fanvil works closely with all the well known and emerging PBX vendors to ensure compatibility, ease of deployment and management."
 
Previous demand for VoIP solutions derived from companies migrating from ISDN to SIP, noted Graham, who is now witnessing a rise in churn from early adopters of VoIP seeking solutions that offer greater UC features for less cost. "This often results in the provision of new phones, similar to what we have seen in the mobile phone market over recent years," added Graham. "UC will become increasingly important, and there will be future developments with further integration between the GSM and SIP worlds, CTTV and security with greater dependency on Microsoft products. Meanwhile, FTTP, G.Fast and 5G will prompt a host of reinventions of existing solutions."
You would be doing yourself a big favour by noting Graham's words, which are delivered with the weight of many years industry experience and sector insight. He began his IT career 21 years ago working for the R&D division of Echostar, a large American satellite broadcasting company based in the UK, supporting electronic and software engineers who were developing digital set top boxes for the digital TV market. He gained skills managing Windows and Linux environments and acquired MCSE and CCNA certifications.
"I then spent a number of years in outsourced IT providing consultancy services primarily to SMEs," added Graham. "This led me to starting my own company specialising in VoIP. During this time we developed a relationship with Fanvil and created Fanvil UK which is sharply focused on supplying and supporting Fanvil products to the channel. That's why we added new distributors that allow us to better cater for growing demand, and Fanvil continues to make significant UK market gains with a 100 per cent rise in year-on-year sales volumes."
Just a minute with Craig Graham...
Role model:
Paul Scholes, he quietly gets on with doing a great job
What talent do you wish you had?
To have a photographic memory
Best advice you have taken:
Always end a negotiation with 'Yes, if…'
How do you relax?
Mountain biking and building stuff in the garden
The biggest risk you have taken?
Starting my own business in 2007, and asking my wife to marry me
Who do you admire most in the channel?
3CX CEO Nick Galea, an inspiring entrepreneur who has created great companies and surrounded himself with talented people who stay loyal
Your biggest achievement?
Leaving a secure job, starting my own business and keeping my family fed and housed
Tell us something about yourself we don't know:
I can ride a unicycle
Top tip for resellers:
Drive sales through education