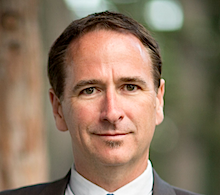 The acquisition of Polycom by Plantronics is an apotheosis, a time for Plantronics to assert pre-eminence on the global stage.
And at this time, perhaps more than any other, the first obligation of CEO and President Joe Burton is to be a true leader, a source of reassurance, vision, strategic direction and to know what lies ahead. He cuts the mustard in all of these...
Plantronics has emerged from the deal predictably strengthened, and according to Burton it is not the coming together of two big industry players that counts most, but the influence of a greater, more impactful entity catalysed out of the merger. "It is rare for two industry leaders to come together and be fundamentally bigger than the sum of their parts, but that is what Plantronics is today," claimed Burton. "We are focused on unlocking human potential on the individual's terms and becoming the end-to- end human collaboration experience provider, putting the person back in the middle. We will deliver a step-change in the user experience as the cloud UC market continues to grow."
Burton always believed that when Plantronics swooped on fellow industry giant Polycom the global UC market would be in more need of its services. Therefore he undoubtedly faces his greatest opportunity to serve the interests of partners and users, and this involves innovation. "We currently hold more than 700 patents with devices and services that are widely used for collaboration," he stated. "The software expertise we've built up over the past five years, coupled with the additional hardware and video capabilities from our combined forces with Polycom, will continue to drive the cornerstones of our business in data analytics and will be a major key to enabling significant growth in the months and years ahead."
Hence Plantronics's intensifying efforts to tap into the rich seam of information gathered by its headsets. "Every company is swimming in raw communications data, but it's not helpful to anyone if it's hidden or can't be understood," added Burton. "Over the past ten years headsets have evolved into a wearable computer of sorts – the headset knows an awful lot. It knows when I'm talking, or if we're both talking and interrupting each other. It knows the noisiest places in the office or where there might be wireless interference. We're learning more about that kind of data and using it to inform our analytics platforms and solutions so we can ultimately provide our customers with the same knowledge and, for example, extend that level of information to video and open office seating."
Plantronics was established in California in 1961 by two airline pilots with a founding mission to invent an alternative to heavy and uncomfortable long haul commercial aviation headsets. Notably, a Plantronics headset was used by Neil Armstrong as he stepped onto the Moon. The company was also an early UC innovator. When the first versions of Microsoft OCS were appearing it realised the power of UC and the role of headsets in the user experience. "We built a fast growing business as the industry shifted to Unified Communications," explained Burton. "For example, in 2007 before the introduction of the iPhone the story we were telling was about the desk phone or the PC. Now, the story is about the desk phone, the PC, the mobile device, the tablet and the audio conferencing unit – and soon, immersive video.
"This isn't new to us. With the addition of Polycom we can now address all the opportunities for our customers. But it's a constant challenge to make sure that our technology continues to maintain that 'human first' priority. Features are wonderful, but they still need to be consumed through a piece of hardware that customers not only want but need to use. That's where we come in. We're constantly talking to our customers to learn about what's working for them, what's not, and how we can develop and improve upon their experiences. We even use our own offices as a test lab of sorts to study how megatrends influence how we work or how noise impacts our customers' businesses."
Polycom and Plantronics have historically pursued parallel paths in the communications and collaboration industry, and both companies began to serve the same customers through common routes to market and with similar alliance partners. "It made sense to combine forces to provide better experiences for our customers, to create new business propositions for our partners and to build value for our shareholders by engaging new markets for people, their workspaces and the places they work," stated Burton. "We believe that we're stronger and better together and will deliver a strategy that spans the range of communications experiences with devices, software, analytics and services.
"As part of the integration process we are assessing the changes we need to make. Some may happen from the outset while others will evolve over time. One of the most exciting opportunities that we see in the new company is to share best practices across our entire business. For example, Plantronics has wanted to enter the services business for some time and this provides the best chance to do that quickly and successfully. Polycom already has a successful Care Services, Managed Services and Professional Services operation and in this we will become more integrated."
Burton joined Plantronics as SVP of Engineering and CTO in 2011 and he has a long history of creating opportunities to help drive direction and innovation, latterly immersed in how people communicate and collaborate today. "We've moved from considering how we can use technology to connect, to how technology serves our need to connect naturally in every kind of environment, whether we're on the move, in a huddle room, a conference room or at our desk," he stated.
"On one side, we now have higher expectations than ever for the technology in our business environments. At the same time, the move to the cloud for collaboration – with multiple cloud platforms to choose from, to mix and match – puts even more pressure on the intersection of our needs with the technology and how to make sense of the communications chaos. And the people who have to manage this all are similarly confounded by provisioning, updating, and enabling all the piece parts.
"So we're maintaining our focus on transforming the UCC ecosystem in major ways. What I get the most excited about, especially when I think about the great potential that Plantronics and Polycom share, is the ability to walk into a conference room or a collaboration space and things just magically work together. That's part of the beauty of Plantronics and Polycom joining forces. We're able to make those innovations a reality because we already create the hardware that facilitates seamless collaboration. I can't wait to reveal what we're working on right now that continues to deliver on this history of innovation."