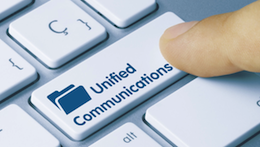 Here we consider the driving forces shaping a new geography of the UC landscape, including the rise of certain technologies, changing buying habits and a new focus on up-selling to existing bases.
To say that UC is a hotbed of technological innovation would be to greatly understate its role in bringing emerging technologies to market. One such innovation is AI which is starting to play a key part in UC with personalised market-of-one engagement, giving businesses more context and insight into customer problems before employees even speak with a client. "This technology brings accelerated sales, reduced churn and increased customer value," stated Sharon Maslyn, Vice President of EMEA Sales at 8x8. "We also expect more organisations to adopt AI micro-segmentation in their UC strategies. This allows businesses to address the uniqueness of customers by learning their patterns of behaviour, issues and business goals. Relevant insights about customers makes each interaction intelligent, engaging and provides a faster time to resolution."
 
Daniel Yin, Senior Product Manager for UK & EMEA at RingCentral, expects AI and VR to significantly influence the UC industry, but in different ways. "AI is already starting to play a serious role in optimising and streamlining communication systems," he said. "Tools like chatbots will also play a key role in how we interact, providing a bridge between the comms platform and other applications. For example, being able to interact with a CRM system directly from chat tools using natural language rather than having to learn complex commands to interact with a CRM. In the contact centre space we see virtual voice and text agents becoming more commonplace and able to replace even complex agent use cases." 
VR has not made the leap into the UC space in any significant way, but the potential for immersive experiences is real. "One of the big challenges with UC is providing a truly collaborative experience," added Yin. "Various vendors have tried with large and immersive telepresence solutions, none of which have truly captured the feel of face-to-face meetings. VR provides an exciting possibility to make these sorts of meetings as close to face-to-face as possible."
According to Alan Mackie, Product Director at Gamma, AI will have a big impact over the long-term future of customer care for a large number of service-based businesses, and integrating with the UC platform that enables the other forms of customer support will be key. "This is not an immediate trend for most businesses but will become more important," he said. "I see VR as a specialist model that would add value to a limited number of organisations."
The immediate UC driver is integrating features like collaboration and desktop sharing with applications already in use by the customer, such as CRM systems. "The key is ensuring that the UC application is contextualised to integrate with the customer's main business processes," added Mackie. "So far the take-up of UC services such as desktop collaboration, web and video conferencing by SMBs has been limited. I see the main trend for resellers not being new UC functionality but rather the way that existing functionality is taken to market to show the benefit for all businesses.
"The biggest opportunity is for partners to go back to existing customers, both PBX and hosted, and up-sell UC features that can easily be consumed by a large percentage of clients. This offers partners a way to increase the margin from their existing base and provides an opportunity to extend customer contract lengths. The main focus for Gamma on UC right now is to provide a set of simple packages with marketing and sales support to enable partners to up-sell services such as enhanced audio, web and video conferencing alongside the Horizon Hosted Voice service."
Another trend noted by Yin is a shift in buying strategy. In the past the majority of buyers focused on telephony solutions, either replacing legacy PBX systems or looking to scale telephony into new offices. "While this is still a common buying pattern we are also seeing interest in UC solutions being driven by other primary interests such as conferencing, web meetings and collaboration which were often previously viewed as add-ons," he said. "They are now becoming the drivers for UC uptake."
According to Maslyn the CIO's focus is shifting as more businesses make the customer experience a top priority. "But, they are being held back from delivering great service by a number of factors such as fragmented systems, information and a lack of customer insight," she added. "This is why we have created a technology that allows businesses to shift their communications towards one platform for all comms, collaboration and engagement between employees and customers. This third wave of enterprise communications enables organisations to weave together voice, video, messaging, meetings and contact centre solutions for enhanced employee and customer engagement. This will be a main component in the evolution of UC."