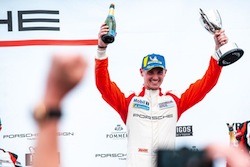 9 Group sponsored race driver Josh Webster has made a dramatic return to compete in the 2019 Porsche Carrera Cup GB race series.
 
In a 'later than last minute deal' Webster was offered a chance to compete by Team Parker Racing team principal Stuart Parker. 
"It's not ideal starting the way we are, having missed the opening races, but we'll give it a good go and use this next weekend at Croft as a springboard for the rest of the season," stated Parker. 
"We are excited to welcome Josh back to the team. He won with us in 2015 and we know he has the talent to get stuck in."
 
Having missed all practice sessions at the last race weekend because the deal was tied up literally the day before qualifying and a brand new Porsche Cup car had to be sourced and run in at a nearby air field, Webster secured pole position and won Race 2 by over 5 seconds.
 
He commented: "Excluding Donnington a few weeks ago, I last raced in Mexico in October 2018, but if I can use a bit of my experience from Supercup over the last few years it will make me more competitive. 
"I'm not putting too much pressure on myself. I love the British Touring Car event package and I'm just really looking forward to getting out there and racing. Thanks to 9 Group, Calteq, TAG Autosport and of course, Team parker Racing, for their support."