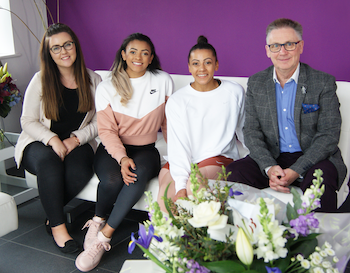 Staff at Stonehouse headquartered 9 Group were given a rare opportunity to quiz British Olympians Becky and Ellie Downie, along with young gymnasts from locally based Sheer Velocity Tumbling Club, when the duo paid a visit to the service provider.
The sisters, currently aiming to add to their international medal haul with success at next year's Olympics in Japan, are two of five UK sporting winners recruited to mirror 9's 'Free to Perform' ethos.
They also run their own leotard brand, Double Downies, which has given them an insight into the challenges and rewards of running a small business.
Becky emphasised that the fundamentals for success are similar in business and sport. "There is a need to drive yourself hard and that is probably why many athletes become good business people," she said. "The skills are transferable."
Ellie added: "Once you have a passion for sport, the steely determination never leaves you and clearly that is a great asset to have in business."
9 Group Marketing Director Mark Saunders commented: "Everyone who joined in the day walked away with heightened levels of inspiration and a deeper appreciation of what it takes to succeed at the very highest level."
Pictured (l-r) 9's Digital Marketing Executive Stephanie Miles, Ellie and Becky Downie with Mark Saunders.