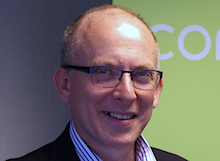 Joined-up thinking and a collaborative approach from all stakeholders is key to the success of all smart city projects, according to Nick Sacke, Head of Products and IoT at Comms365.
For smart cities in the UK to deliver on the promise of digital transformation – which includes more efficient living, better health as well as greater prosperity – city authorities and their attitude to strategy and planning are critical, noted Sacke. "The UK must also project growth of these technologically driven initiatives based on the sound concept of global competitiveness, in addition to the health and wellbeing of its citizens," he added.
One danger that could hamper smart city-led innovation are the funding silos held in separate departments. "Only cities with a centralised IoT funding mechanism to support collaboration will make significant headway," commented Sacke. "That is all down to leadership. Smart city growth is predicated on the building blocks of leadership and strategy, skills and capacity, collaboration, and funding. Without a coordinated approach growth is likely to happen at a much slower pace. With the Asian market already addressing these issues time is of the essence."
By combining the three elements of academia, innovation and commercialisation, smart city programmes can be streamlined for the greater good, and through collaboration and coordination there is wider potential for many more locations to benefit. "The commercial aspect results in a value-driven and scalable model with potential to roll out across whole regions, even countries, allowing towns and villages to reap the same benefits as their smart city neighbours," added Sacke.
The Milton Keynes smart city project deployed a LoRaWAN network towards the end of last year to provide coverage across city central areas for a variety of use cases including energy, parking and environmental. "Data from the several thousand LoRa-based IoT sensors is collected securely over the Low Power Wide Area Network (LPWAN) and deposited in a purpose built IoT data hub, which allows analytics to be conducted by a variety of stakeholders in a secure monitored way that is compliant with data protection legal frameworks," said Sacke.
"These types of projects undoubtedly hold security as a top priority due to the volume of the deployment and the population numbers that will use the network and the devices connected to it." 
The early smart city accelerator projects in the UK were set up by large companies and academic institutions as a proof of concept. Some SME companies were involved in these projects through innovation work, particularly hardware and application development, but the way for the channel to engage and conduct commercial activities wasn't entirely clear. 
"This remains a challenge as only specialist IT firms have the requisite know-how and expertise to contribute to network infrastructure build out programmes," noted Sacke. "Once the city-wide IoT network is in place the channel has an opportunity to play a role in designing, selling, installing and managing smart bundles of IoT technology and services that leverage the city-wide umbrella infrastructure." 
LPWAN deployments of LoRaWAN and Sigfox to support lighting, water metering, flood detection, waste, smart building, environmental monitoring (and other use cases in cities such as London, Cambridge, Oxford, Manchester, Bristol and Milton Keynes) have proven to be effective for data gathering at scale and have positively impacted operations. "LPWAN is a complementary network to existing M2M, Wi-Fi, Bluetooth and other wireless types, which can be orchestrated together as a resource by cities," commented Sacke. 
"The channel opportunity is to leverage existing IoT network infrastructure by bundling together sensor hardware, software and services as an operations value add. Examples of these smart bundles that are gaining traction in the smart city markets are parking, people movement, environment and building security."
Security is a priority in the development and deployment of IoT, with Gartner predicting that by 2020 IoT security will make up 20 per cent of annual security budgets. "As a potential inhibitor, analysts, vendors and stakeholders alike are concerned about the potentially significant security risks associated with IoT deployments, especially those that are city-wide," explained Sacke. 
"These concerns are playing an influential role in decision making and end user confidence in deploying IoT services, particularly when it comes to utilising existing networks that are known to be vulnerable – for example, Wi-Fi – and those that are new and operate in the unlicensed spectrum, such as LoRaWAN and Sigfox. Standardisation, or the lack of it, within the IoT industry is also acting as a significant barrier to deployment. With older and newer networks deploying IoT, more standardisation regarding security policies is urgently required."
An example of a successful initiative is Yokohama in Japan. Suffering from a sharp rise in population that caused construction and pollution increases, with collaboration from the city government, private sector, citizens and household brand names, a pilot was rolled out in just 4,000 homes and resulted in a 20 per cent decrease in power consumption. Sacke commented: "This smart project started with innovation born from necessity, but also took on board government and citizen interests and provided a valuable, measurable and commercial outcome."