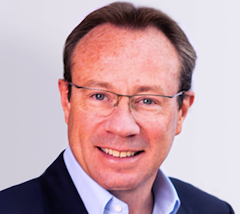 Ofcom's Wholesale Fixed Telecoms Market Review (WFTMR) published today allows BT to charge customers more for FTTP in a bid to boost investment in fibre across the UK.
The review sets out how the watchdog will regulate telecom fixed access services for the five years from 1st April 2021 and BT believes that the document is broadly in line with the expectations laid out in its Q3 2020/21 financial results, and will allow BT to earn a 'fair return' on its £12bn FTTP investment.
According to the review Ofcom will not impose price caps on full fibre connections installed by Openreach allowing it to confirm plans to build FTTP to 20 million premises by the mid- to late-2020s.
Philip Jansen (pictured), Chief Executive, BT Group said: "This is good news for all fibre providers in the UK. For us, it is the green light we've been waiting for to get on and build like fury. 
"Full fibre broadband will be the foundation of a strong BT for decades to come and a shot in the arm for the UK as we build back better from this pandemic. Connecting the country has never been more vital".
Openreach CEO Clive Selley added: "Today's regulation will allow us to ramp up to three million premises per year."
Zen Internet CEO Paul Stobart welcomed the move. "The 2020s is undoubtedly going to be the decade of full fibre," he said. 
"The benefits of full fibre are undeniable for the UK and make regulations such as this increasingly important for enabling and supporting the likes of Openreach to be able to invest in its infrastructure at pace. 
"In particular, this will help connect the people that need it, especially those in rural areas that are at risk of being left behind.
 
"As well as this, Ofcom's decision to enable increased access to Openreach's telegraph poles and underground cable ducts for alternative providers is a positive step for consumers. 
"In order for the UK to ensure everyone has access to choice, value and quality when it comes to connectivity, the industry needs increased competition and investment. 
"This is something alternate provider will undoubtedly supply."