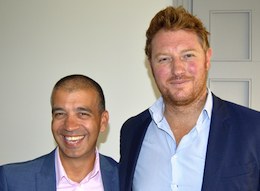 Former JHL Communications Sales Director Alister Green has been pulled in by Pangea as Head of Solution Innovation.
He brings IoT experience working with major telcos including a seven year spell at Vodafone where he held a number of senior positions.
Pangea MD Dan Cunliffe said: "Alister is a great fit for our business and already engaged with a number of new and existing partners to support the acceleration of their IoT strategies."
Green added: "With the global IoT market forecast to reach revenues in excess of $400 billion in the next two year, my goal is to utilise my experience to help our partners and end clients generate real benefit and revenues from IoT solutions and connectivity."
Green's appointment is Pangea's third top level hire this year, following the arrival of former Active Business Communications Sales & Marketing Director Georgie Gardiner who joined as Head of New Business Development in February; and Nicola Mercer who was posted as Pangea's IoT Channel Partner Manager in May.
Pictured (l-r) Alister Green and Dan Cunliffe