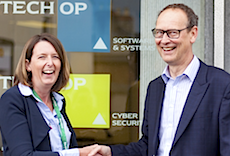 Cheltenham-based Bamboo Technology Group has acquired local business Tech OP Solutions, the first purchase in a buy and build strategy designed to develop the business as a high profile independent MSP.
Tech OP was established in 1983 and provides IT managed services to SMBs across the south west region where it has bulky a reputation as a cyber security specialist. 
The company also develops web and mobile logistics applications to support customers in delivering outsourced Government contracts (in the UK and Australia); and the development and delivery of software solutions into the niche Justice sector, around prisoner escorting and offender tagging services.
"We have been partnering with Tech OP for a number of years, working together on providing its customers with connectivity, while they supported ours with managed IT services and cyber security consultancy," said Bamboo Technology MD Lorrin White. 
"As a business, we have some really exciting and ambitious plans for the next few years. The past two years have seen us focus on and invest in our internal processes, quality standards, the attraction of new talent and further digital transformation and automation to enhance our service provision. 
"With these elements complete and key new members of the team in place, we are now moving on to the next stage of our growth strategy and ramping up activity with an aggressive acquisition trail."