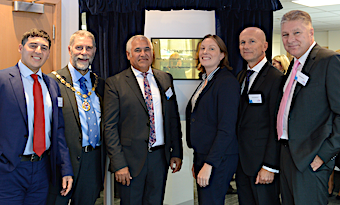 BDR's acquisition of Kent-based telecoms, IT and security specialist Icom has been sealed with the official opening of the company's refurbished offices in Aylesford by local MP Tracey Crouch.
Malek Rahimi, BDR Operations Manager, stated: "Icom's integration of BDR's performance culture, behavioural standards and thirst for progress has created one of the fastest growing companies in Kent two years running.
"Working alongside MD John Donoghue and his team we're looking forward to seeing further growth as we maximise on Icom's reputation."
Through acquisitions and organic growth, BDR is on track to more than triple revenues from £9m 18 months ago to £32m this year.  
Before unveiling the commemorative plaque, Ms Crouch said: "It's important for me to see such a healthy business operating within my constituency, to hear about the company's future growth plans and see the investment BDR is taking in its members of staff."
Pictured: Malek Rahimi, BDR; Tonbridge and Malling Deputy Mayor Cllr Roger Roud, BDR CEO Bahman Rahimi; Chatham and Aylesford MP Tracey Crouch; Icom MD John Donogue and Icoms Sales Director Kevin Godfrey.