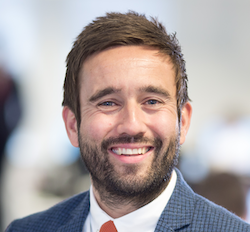 In the first of Comms Dealer's 2022 Channel Forecast Insight Sessions our expert panel discusses the 2025 PSTN switch off and unravels the challenges and opportunities facing channel partners.
As we approach 2025, channel players more than ever will play a particularly important role for businesses, representing a guiding light as they navigate the migration to all IP. In fact, 2022 should be a busy year with partners seeking to secure as much progress as possible ahead of the 2025 PSTN switch off. Advances made so far have led to an expectation that larger businesses and top end SMEs are aware of the change, however the impact of the switch off is largely unknown at the lower end, which could be the real story.
"It's the smallest businesses that might not yet be aware of the switch off and that's where the volume is," stated Andy Smethurst (pictured above), Channel Sales Director, Gamma. "We need to do a lot more to educate customers on the shut down and the options they have. In mid-market and SME there is a good saturation of touch points, and our partners are well versed in moving their larger customers away from legacy to newer technologies. But at the lower end there is a challenge with time, resource and the investment required all being factors of concern."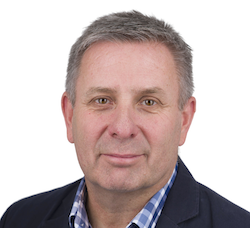 The pandemic has taught us that a well-run businesses should have a crisis plan, but nothing tests this lesson quite like their approach to 2025. "Assets are being sweat," stated Paul Harrison (pictured left), Managing Director EMEA, Evolve IP. "Customers know the functionality of their PBX and think it can't be replicated in a hosted environment. Furthermore, it's a capex spend and they own the PBX. We work hard on showing the TCO model. It's about the education piece: If you go from capex to opex, how does that scale? These are conversations you need to get around.
"We are strong in the hospitality vertical with 600 hotels around the world, some with four to five thousand rooms, and this has been the last hunting ground for PBX vendors. The property management systems in hotels are integrated and it's hard for a hosted solution to replicate that. We've taken those challenges on and delivered a solution fully. It's an area that has taken a lot of innovation. We're seeing less and less SIP trunking as more people want to move to the cloud."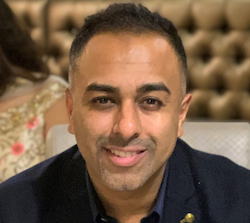 The nation is recovering from the pandemic and also in a period of IP transition – both carry an element of uncertainty for many – but we do know what the future of business comms will certainly look like and that sweating assets is not an option. "It's about educating not just the lower end of SME but also ensuring that partners are fully versed in the preparations they need to put in place for that massive switch off," commented Sachin Vaish (pictured left), Managing Director, Vaioni.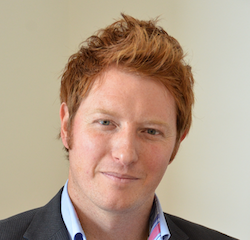 Covid-19 has also showed us that it's more important than ever for business leaders to be aware of, and prepare for, unplanned events. The 2025 switch off is firmly in the diary and clearly scheduled, therefore the more prepared resellers are to manage that transition the less likely they'll fall victim to the impacts of doing nothing. "We know that 2025 is the end date, but we don't want to leave it late and get into a mad panic because it will all fall down," said Dan Cunliffe (pictured left), Managing Director, Pangea.
"There won't be enough resources. But the way to get around that is using over the air services. For me, it's probably the biggest opportunity we've had in the last seven years, besides the IoT being enormous in terms of what you can connect. From a local perspective, 4G and 5G is getting better and better, devices are getting equally as strong and there is good medium to medium-high usage that fits these products. People will have more choice than ever to address this change."
The pandemic gave organisations the chance to rethink how they work and introduced them to the cloud, so why persist with pointless PSTN? "The pandemic has 100 per cent accelerated the move to digital," added Harrison. "Businesses are now looking for a longer term solution rather than the sticking plaster applied in March 2020. Companies are saying this is the new norm and asking how to adapt. Look at the PBX manufacturers – they are working with hosted providers."
As we have seen, for many, 2025 is not a matter of if nor when – but how. "The challenge for partners is getting organised to address the 2025 event in their business, but the opportunity is far reaching," added Smethurst. "Partners have a chance to disrupt the incumbent telcos where 80 per cent of the market still sits, and provide customers with services they need for the future while increasing their own margins. But the immediate challenge is the education piece and helping partners get the message out there."
Post-Covid-19, building resilience has emerged as the beacon for businesses, so surely it's time to bin PSTN for good. "The opportunity started way back in 2002 when broadband killed dial up," added Harrison. "For 20 years we've been selling the benefits of hosted telephony, the cloud, and doing away with the PBX and PSTN. According to Cavell, it's taken 20 years for the UK market to get 35 per cent penetrated. It predicts that by 2025 the UK will be 70 per cent penetrated – so the opportunity is ahead if us, not behind us. And the pandemic has accelerated that. We're bracing ourselves for the next three to four years as people move away from PBX and PSTN. The opportunity is massive and people are getting on board with it."
Since the pandemic, businesses have been forced to transform, which has accelerated their thinking and amplified issues around resource and time. But being cloud-based and future proofed is a silver lining in all this, noted Vaish, who underlined the criticality of connectivity. "Different connectivity technologies and products will play a key role in underpinning IP services," he said. "Partners need to educate their customers and talk strategy. Another big one is reliability. Although the PSTN network is archaic it was super reliable. As we move into the more complex IP world reliability will become the new challenge."
Vaioni is building a fibre platform to give partners the maximum choice in FTTP and other Ethernet products. "That is ultimately what is going to drive the PSTN switch off," added Vaish. "It's about creating connectivity solutions that underpin the new technologies businesses will have to transition to. They don't know what they need for every aspect of the transformation so the auditing aspect is crucial.
"As is cyber: Now, everything is on the Internet. So cyber is an area of focus for us. In all of this the biggest enabler is training and education, knowing the connectivity options, understanding the pros and cons of SoGEA versus FTTP for example. And understanding the security threats – all wrapped in a full turnkey solution."
How comms providers respond to the requirement for IP transformation will likely determine their chances of emerging stronger post-2025. And when faced with managing the transition to IP, immediate planning will help. "There is no need to panic yet, but it is important to start developing a plan that involves moving some customers now," added Smethurst. "In doing that you begin to understand the size of the task for the business, and also understand the size of the opportunity."
Already well into the three year countdown to the 2025 switch off, getting the job done should be top of mind. For many comms providers this means keeping their focus on timing. "Three years sounds a long time but unequivocally the opportunity is now," commented Smethurst. "Time is passing before our eyes and in 2023 we have the stop sell of WLR products. Exchanges are transitioning now. We have to educate people, but it's not a doomsday type education piece. It's a great thing for customers: Better scalability, flexibility, reliability, all these wonderful things. That means you can have a positive conversation. The move to home working clearly proves the benefits of cloud-based solutions."
Much coverage and commentary on 2025 has focused on fixed lines, yet there exists a myriad of other opportunities, noted Cunliffe. "We sell intelligent mobile connectivity and have never dealt with fixed products," he stated. "For us it's a natural transition. Our partners are in this world and getting into a free PSTN audit. We have created templates and a step-by-step approach for partners to find out this information. We're about to launch a PSTN checker that aligns itself to the right product that we provide.
"Furthermore, loads of IoT and telemetry devices are connected to PSTN, so there is a huge opportunity. You could argue that it doesn't make sense to use any tech other than mobile or IoT technology. Many of the people we deal with are moving their corporate WAN to the home using a mobile service."
A multi-faceted response will help partners and their customers emerge stronger and more resilient beyond 2025, with mobile technology bringing new potential. "We are interested in the lower end of the market and don't know the full extent of the opportunity," added Smethurst. "What percentage could move completely to a mobile solution? 5G has a big part to play. There is an unknown, but a huge opportunity around what will happen regarding a transition towards 5G. Why would they need a PSTN?"