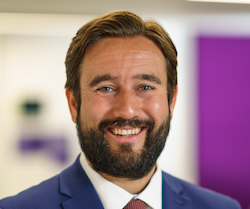 For many businesses a UCaaS solution will deliver functionality far beyond their current comms estate, which represents a major opportunity for resellers, says Gamma's Channel Sales Director Andrew Smethurst.
The pandemic forced many businesses to adopt collaboration and communication solutions that enable employees to work away from the office, but now is the time to turn those tactical quick fixes into long-term strategic deployments. "The way we work has changed forever, along with the way we consume services," said Smethurst. "Our expectations of what constitutes a good enough customer experience rose to new highs. Digital experiences went from being a nice-to-have to a must-have."
On top of these pandemic-driven shifts one of the UK's biggest technological changes to date is now fully underway – the 2025 PSTN switch off. "While it might seem a while away, plenty of locations have already reached stop-sell status, with Salisbury and Mildenhall reaching end of life later this year," added Smethurst. "For channel partners, the changes revolving around employees, experiences and technology could prove to be the greatest opportunities that the UCaaS market has ever seen."
According to Smethurst, with the PSTN switch off underway there is only one choice moving forward for business communications – cloud-based services. "The number of analogue-based phone lines is in rapid decline and it will necessarily have to reach zero by 2025," he added. "There's good and bad news in those numbers – there are still thousands of businesses that need to move to IP services, but that number will only grow smaller over the next few years. Now it's time to act. Now the opportunity is at its peak."
The best way to take advantage of this shift is to plan ahead, believes Smethurst. So partners should begin to understand the financial and technical impact, for themselves and their customers, of the switch from legacy services and create a plan that includes the many up-selling opportunities that come with IP services. "Choosing a provider that can deliver all the components of that migration will be fundamental," he stated. "It's not just about the VoIP solution, but also the underlying connectivity or additional options, such as mobile data, that could differentiate their business in a very competitive market. The opportunity is now and it's never been greater – but only for those that start planning ahead and understand the implications of these changes."
The move to cloud-based solutions isn't news – the pandemic has made sure of that – but the PSTN switch off will continue to accelerate the adoption of UCaaS. If anything, because people also demand it. "Eighty five per cent of homeworkers demand a hybrid working approach from their employers," added Smethurst. "Simply put, home offices are here to stay. Channel partners have an opportunity to help their customers secure such a future and ensure their employees' happiness and wellbeing.
"Businesses will be looking for providers that can help them move from a tactical approach to UCaaS solutions to a long-term strategic one. Gone is the time of makeshift, sticking plaster solutions – it's time for businesses to sort out their tech stack and understand how to better ensure success. Channel partners should act as advisors for their existing customer base to support them through that journey, but also to educate potential customers on the importance of a sound collaboration strategy for their employees."
It's impossible to ignore Microsoft's influence in this area, as Microsoft Teams users have grown massively over the past two years, and this won't stop anytime soon. "Creating a truly unified experience through the enablement of voice within Teams will be key for partners to truly reap the benefit of Microsoft's growth and popularity in the market," added Smethurst. "Partners are perfectly positioned to support deployment and provide the technical expertise and customer service that customers require."
He also noted that consumers are also driving changes in the UCaaS market, with digital channels becoming the preferred means of communication for many people, as 79 per cent say they prefer to use webchat in order to get a swift response from a brand.
"For the bigger brands, adapting to this change won't be an issue," added Smethurst. "In the SME market, things are slightly more complicated. Customer interaction solutions, or contact centres, have notoriously always been a little too expensive and complicated for some smaller businesses. Yet, it doesn't take away from the fact that every business now needs such a solution – with quite some urgency too. The alternative is simply losing customers.
"Thankfully, a lot of those much-needed features that would make for a better customer experience, such as digital channels, are now trickling down to more cost-effective solutions – Horizon Contact is a clear example of that. The SME market is largely unserved when it comes to these solutions. A lot of small businesses won't even realise they need such a solution, but it's clear they would hugely benefit from it. This is where partners have a real chance to maximise their margins and add true value to new and existing customers."