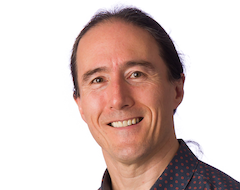 All business leaders should not hesitate to campaign in favour of, and subscribe to, the organisational values advanced by B Corporations (B Corps), urges Zen Internet founder and Chairman Richard Tang.
In September Zen Internet secured certification as a B Corp, joining a growing group of companies reinventing business by pursuing purpose as well as profit. Since founding Zen in 1995 Tang has been keen to ensure that the company balances financial success with social responsibility. Over the years he discovered that rather than this being a trade-off, the two reinforce each other over the long-term, as doing the right things for staff, customers and suppliers leads to greater loyalty and long-term financial success, he argues. Here's what becoming a B Corp means to Tang, Zen and the wider community, and how the accreditation was achieved...
What prompted you to sharpen Zen's focus on your key objectives?
During a visit to Bhutan in 2008 I learned of the King's 'gross national happiness' philosophy and it inspired me. That is when I introduced what are now Zen's three most fundamental long-term objectives of Happy Staff, Happy Customers and Happy Suppliers. These objectives reflect my own personal deeply held values, my belief that people should come first, and money second. I believe the world would be a better place if more organisations operated in this way. So when I learned about the B Corp movement last year I instantly knew that it was a good fit for Zen.
What is a B Corp?
Certified B Corps are a new kind of business that balances purpose and profit. Being a B Corp, for example, gives me and my fellow directors a legal responsibility to make a positive difference to society and the environment. We are legally required to consider the impact of our decisions on our workers, customers, suppliers, community and the environment. B Corp is a community of leaders, driving a global movement of people using business as a force for good.
What was involved during the B Corp accreditation process?
The certification process is comprehensive and organisations are required to implement and maintain processes which enhance social and environmental contributions. These processes are then reviewed during the verification stage to ensure they meet the required standards.
To become B Corp accredited a company's entire social and environmental performance is measured across the five key areas of Governance, Workers, Community, Environment and Customers. It involves a comprehensive certification process which took us eight months or so to complete. Examples of areas looked at include energy supplies, waste and water use, worker compensation, diversity and corporate transparency.
As part of the process we were able to showcase initiatives such as how we offset our carbon emissions as part of our Carbon Neutral Plus status. We also have an environmental steering group in place that does a lot of great work to ensure environmental objectives are set, and met, each year. This steering group also runs a series of programmes and awareness campaigns throughout the year that encourage everyone to take small steps in their own lives to reduce their carbon footprint. Another key part of the accreditation is about commitment to employees. We provide excellent employee benefits and maintain an ongoing programme of health and wellbeing initiatives.
How will you keep Zen on the B Corp track?
Zen's independence is important to me and that is why I will never sell. There's too much short-term thinking in the pursuit of short-term profits in our sector (and many other sectors), often at the expense of channel partners and, ultimately, their customers. As Zen's sole ordinary shareholder, I can ensure that we always stay true to our values. I am proud of our B Corp accreditation which backs up the years of hard work we have all put in to make it happen. It is also supporting the worthwhile global B Corp movement that, in my view, the world desperately needs. For too long companies, particularly large organisations, have focused on short-term profits to the detriment of all else. Zen wants to show its customers, partners and the industry that we can be a successful and profitable company, without compromising our values.
What ultimately drives you?
I have made it my mission in life to do what I can to evolve our capitalist system into one that better looks after the wellbeing of society and the sustainability of the environment. I describe my mission in a five minute video on my YouTube channel – and becoming a B Corp was a very worthwhile step on this journey.